Going from Card Reader to TV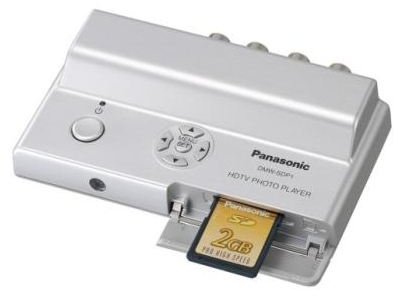 Card Readers with TV Out Connectors!
Once upon a time, you watched what was on television, or you went to the cinema. If you were lucky you went to someone's house to watch their home made movies. There was no video recorder and certainly no DVDs, and there was no way in the world that anyone could imagine saving the contents of a movie several times over on a device the size of a thumb!
More and more new TVs are equipped with card readers and/or USB ports so that you can connect flash media with movies and pictures saved on them. But what if your TV doesn't have this facility?
Well, you might use a card reader equipped with a TV out connector!
View Videos from Card Reader to TV
These gadgets are usually multi-format card readers that are small and portable and in many cases they're also versatile and can be used for connecting to a TV and to a PC or laptop.
We've collected together a selection of such devices that you might consider purchasing, perhaps for use on a friend or relative's TV to show off holiday snaps or wedding videos. You might even get one just for connecting to a bedroom TV, and as we've seen, the great thing about these card readers is that they can still be used on your PC!
Four Great Card Readers to Watch TV With
For around $25 you can pick up a SD MMC MS USB Movie Video Photo MP4 TV Card Reader Player from www.1topstore.com which also comes with a remote control. There is no support for USB hard drives but USB flash is accepted, as are files in MPEG and AVI movie formats, JPEG, BMP image formats and MP3 audio, and the device users the standard single composite video port and two-channel audio.
Listed at Amazon is the Panasonic DMW-SDP1EB High Definition SD Memory Card Reader (pictured left) which upscales standard definition images to HD 1080i quality, and has a variety of playback modes. There is no USB connector on this device, however, (just a card slot) and it is really more suited to individual images than movies.
The 7-in-1 USB 2.0 Card Reader/Writer w/TV Out from www.geeks.com ($29.95) is feature packed and requires the usual A/V connectors on your TV and a USB port on your computer for installing it. This is a truly versatile card reader supporting all of the popular flash card formats and comes with a remote control and mains power supply, although note that there is no USB input.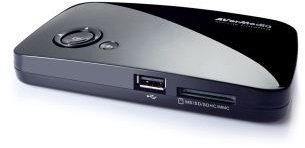 Finally, www.redstore.com have the AVerMedia AVerLife E232 Cinema Media Player (£44) which is an HDMI and USB card reader. With an HDMI connector in addition to the usual composite video found on the other readers in this list, videos going from card reader to TV will be in up to 720p high definition quality, depending on the source media – this can be USB based or MS/SD/SDHC/MMC flash card.
Note, however, that this device cannot be used on a PC or laptop.
(Images via corresponding links)