Unusual Mouse Pads for Computers

Tis the Season
With the upcoming holiday season, many shoppers will wonder what they should be getting for their family member or loved one. For
those looking at something for their technology obsessed friend, their sights might be on the latest tech marvel - the new smartphones or video games. But in this economic turmoil, many shoppers may not want to break the bank on something that may need to be replaced only a year after it was bought.
Unique and unusual gifts are not unfamiliar to some and many people have been the recipients of these gifts at the same time of year or another important and special day. But what kind of unique and unusual gift would a computer lover want? How about an unusual mouse pad? Computer users like to have their space be their own, from choosing their own desktop background images to what they have on their computers themselves.
Unusual mouse pads for computers are quite popular and can sometimes show a person's individualistic style, what they like, enjoy, and do in their spare time. Online websites like Zazzle and Cafe Press not only offer some of these unique pads, but also have options to make a mouse pad uniquely special.
Places for Unusual Mouse Pads
Zazzle - Zazzle.com has a wide variety of unique and unusual offerings for all types of things, from coffee mugs to t-shirts to mouse pads. The cheapest of the mouse pads starts at $9.85, with the Zazzle.com mouse pad and goes up from there. One of the more unique features of the site is the ability to create your own products, whether t-shirts, mugs, or of course, mouse pads. For customized mouse pads, the price before shipping and handling is $10.95.
CafePress - Like Zazzle, CafePress is a great place to find funny, unusual, and funky types of stuff, like hoodies, hats, coffee mugs, and yes mouse pads. Like Zazzle, CP also has the unique ability to allow for complete customization for a mouse pad.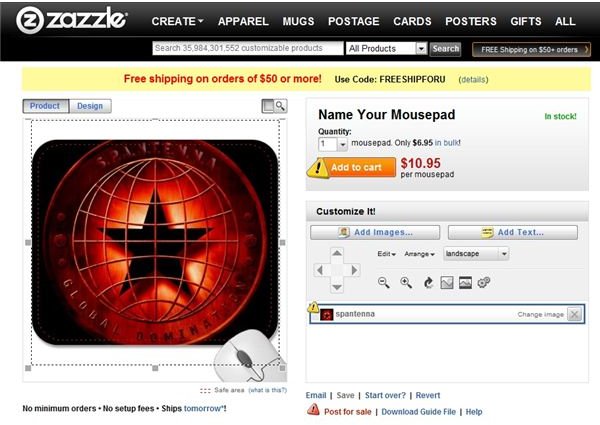 Customization on both sites is quite easy. The links for creating your own unusual mouse pads for computers can be found at the top navigation bar (Zazzle's is on the left, while CP is on the right) and clicking the link takes you to "create your own". The page will be loaded with a blank canvas, so to speak, where you can upload a favorite picture to appear or just type in some text. You are able to change the picture or the text at any time. Signing up for either site allows you to save your creations in the event that you will need to step away from your desk for a certain amount of time.
Sign up for the sites is free and allows for saved carts and other things. Not only can you find some unusual mouse pads for computers (do check out the ones aimed at gamers, Star Trek, and/or Star Wars fans), you can find or create unique t-shirts, coffee mugs, hoodies, and hats using both sites for little as $15, depending on what you're ordering and the initial price.
Image content from Cafe Press; author customization with Zazzle.com