Top 5 Small Laptop Keyboards: Reviews & Shopping Guide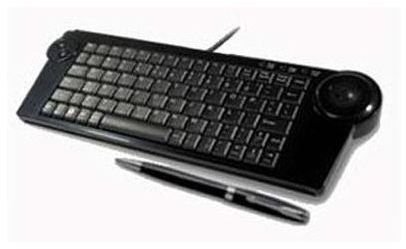 Mini Keyboards: Small, Yet Effective
Many of the small laptop keyboards on the market today are considered "mini" if they are approximately 11.5 inches by 5.6 inches. Unlike the mini touch keyboards one can attach to PDAs or cellphones, these desktop keyboards feel more like laptop keyboards—or even regular size keyboards as they are easy to type on and utilize.
Here, we'll take a look at the top 5 keyboards that are small, yet feel like a regular laptop keyboard and are great for netbooks or laptops.
1. FenTek Super Mini Trackball Keyboard
The Super Mini Trackball Keyboard from FenTek Industries is a compact keyboard with a built-in trackball on the left and mouse buttons on the right. It's available in both USB ($70) and wireless ($90) models, offers plug and play features and is compatible with Windows. The keyboard size is 11.5" x 4" x 1.1" and has a 2.4 GHz RF, GFSK modulation. It comes with a USB charger and offers LED indicators to reveal battery life. This desktop keyboard that feels like a laptop keyboard travels nicely and offers a slim design.
2. FenTek Mini Illuminated Keyboard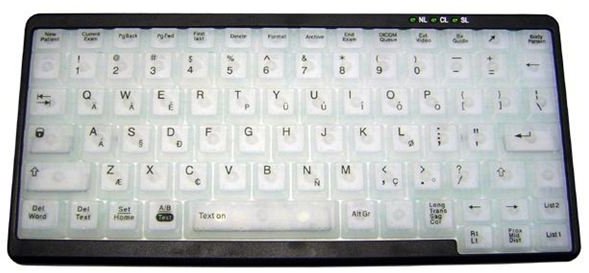 Also available from FenTek, this mini illuminated keyboard is packed with features at a price of around $125. This small laptop keyboard has 82 illuminated keys—great for dark areas and is compatible with Windows. Keyboard size is 11.1" x 5.2" x 1.1" and it comes with a USB connection and super rubber membrane technology. FenTek offers free shipping on all their products including shipping to Alaska and Hawaii. This must-have mini keyboard is a great gift for those who want the feel of a full size keyboard. While the Fentek's are pricer than some of the others, they are durable and do come with a warranty.
3. Adesso Mini Multimedia Internet Keyboard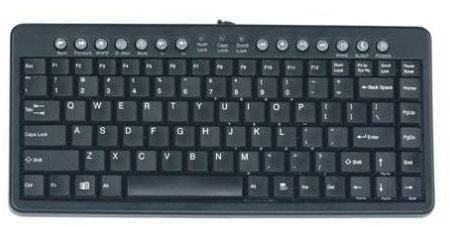 Available at Amazon, you can get this Adesso mini keyboard for around $30. Users like the included "Windows" key and this USB wired keyboard comes with audio control and notebook-style keycaps. The size of this small laptop keyboard is 12.4" x 5.7" x 1.3" and includes one touch access to the Internet and email. It works with all Windows software and is also PC compatible.
4. SolidTek Super Mini USB Keyboard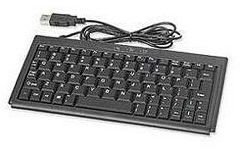 Also available at Amazon, you can get this super slim and small SolidTek desktop keyboard that feels like a laptop keyboard for approximately $36. It's USB wired and is super small at 7" x 1" x 3". Users say it's great for small places (think close traveling spaces here), and it's compatible with all Windows operating systems. This super mini keyboard is great for gaming and entertainment systems and because of its size, if you have limited reach ability, for typing, this is the keyboard for you.
5. GrandTec Virtually Indestructible Keyboard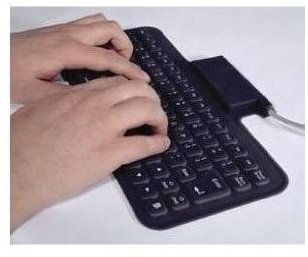 This 85 key small laptop keyboard has been called the "best thing in typing since the backspace key!" Available at Amazon for around $21, this GrandTec mini keyboard is silicon-based and flexible. Typing is quiet and this USB lightweight keyboard weighs in at only one pound. The size is 14" x 6" x 1.5" and because of its flat-out design, you can forget about wrist angle stress. This desktop keyboard that feels like a laptop keyboard works with Windows OS and also comes with a 1 year limited warranty.
When it comes to small laptop keyboards, we've covered a variety of sizes and price ranges to help you make the right choice. Before you purchase any portable keyboard as an accessory for your laptop or notebook, make sure it's compatible with your operating system. These great mini keyboards will be top on the list of gifts this year and are also recommended for any laptop replacement keyboard.
Screenshots
Screenshots by author courtesy of: