Best Front Panel USB Hubs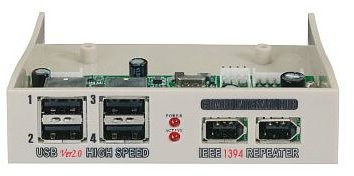 USB is Truly Universal
Remember floppy disk drives? Since the 1990's they were almost always 3.5" in width, and PC's would have a dedicated slot for them beneath the 5.25" bays. These devices would allow you to store a small amount of information on a floppy disk, or even boot a new OS installation.
Over the last few years floppy disks have been succeeded by other formats, notably USB and various other Flash memory solutions. These are almost always inserted into your computer via a USB hub or adapter, and the best solution for these devices is to mount a front panel USB hub in the 3.5" bay where you might once have found the floppy disk drive.
Let's take a look at the best front panel USB hubs available.
Small 3.5" Front Panel USB Hubs
The majority of front panel USB hubs will have at least two USB connectors and any combination of eSATA (for external SATA devices), Firewire and the various SD card and other flash formats. They might not even be 3.5" devices either – more ports means more space, so it makes sense for the market to move into 5.25" USB hubs, which might also include audio and video connectors.
A standard 3.5" internal front panel USB hub should set you back more than £10 – www.sourcingmap.com have such a budget device on offer, with just the 4 ports that you would expect from a standard USB hub.
Meanwhile if you're looking for additional Firewire connectivity, a device with 4 USB ports and 2 Firewire connections would set you back around £25 online from a store like www.conrad-uk.com (pictured right).
Large 5.25" Front Panel USB Hubs
If you're looking for a front panel USB hub for a spare 5.25" drive bay, as we've already seen a larger device means more connectivity options – you might take a look at the USB 2.0 Multifunction device available for under £10 and equipped with 3 USB ports, 1 Firewire and multi card readers, as well as ports for 6 channel audio and a microphone.

Meanwhile if you prefer to mix up 2 USB ports with Firewire, 2 eSATA, audio and flash memory options as well as an LCD displaying your PC's internal temperature, then this 5.25" Multi-Function Card Reader from Amazon (seen here on the right) will set you back just under $20. This device features two fan speed control sliders to let you adjust your PC's temperature, and flash memory cards such as SD, CF, SM, MD and xD are all supported. Note that this device is for connecting to internal motherboard connectors; many 3.5" and 5.25" mounted panels – whether USB hubs or otherwise – have external connectors which you would have to thread through a slot at the back of your PC and then plug in.
If you do choose to go with any of these items or any other that you find online, remember to shop safely, only purchasing from reputable stores.
(Images via corresponding links)