Shopping for Funky Mouse Pads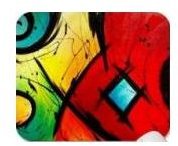 Funky Mouse Pads
Are you looking for a mouse pad with a funky touch in terms of colors and style? You can find plenty of mouse pads that are funky and cool, but many people go through the trouble of finding the best one for the money they are spending on it. Many online stores feature oodles of funky mouse pads, and in this guide we'll go through some advice, and tips to shop and help you find a mouse pad that is funkiest at its best.
Funky Mouse Pads: Design & Color
Design and color are two things attributed to the funkiness, and here are many choices you can make to get a funky mouse pad according to your taste. Designs vary in:
Shapes –Normally you find a mouse pad square in shape, but a shift from this seems quite cool. You can choose from geometrical shapes (like round, star, oval and triangular) to asymmetrical ones (those cut out from a figure like an animal, human or any flower silhouette).
Patterns –A most common mouse pad is simple with a minimalist or no pattern on it. A funky mouse pad would have a better look and feel; you can find thousands of patterned mouse pads printed with quite cool and artistic patterns at times. Some hot patterns include animal (leopard, zebra, snake etc.), abstract (some beautifully painted pieces), grunge (these are getting in vogue rapidly), floral (quite girly in look), and so on.
Graphics & Illustrations –A common simple mouse pad would have a simple logo, or figure printed on it. On the other hand, a funky mouse pad would be creatively decorated with many items and graphical illustrations. Some examples include girly silhouettes, flowers, musical instruments, animals, dolls, cartoon characters and more.
Color –Bright and bold to multi-colors, funky mouse pads are available in a variety of colors according to design.
Text –Quotes are another popular theme for mouse pads. You can look around for mouse pads that have some cool quotes printed on them. Some are quite humorous and are best-fit for someone witty and cool-minded.
Funky Mouse Pads: Where to Buy
When we consider the available options online, here are not many stores you can shop for funky mouse pads at. Here is an overview of some online stores which should be your preference to buy funky mouse pads
Zazzle is a store that contains the largest collection of funky goodies online. Mouse pads are one of the popular items sold at the site. The store contains thousands of mouse pads with a large range in patterns, colors and design, and here are some mouse pads that are categorized as too funky. Prices range from $10-$20.
If you're still looking for a large collection of mouse pads, this site is another good bet for you. Here are plenty of funky mouse pads featuring pets, holidays, music, sports, sci-fi and much more to explore. Prices are as low as AUD $16.
eBay is one site where you can find anything at any budget. The collection of mouse pads here is great and you can find some of the coolest designs. Price ranges from $4 to $11.
This store features some cute, artistic mouse pads which range from patterned to printed figures, faces and flowers. It's a must-check out site if you're not looking for too much bold stuff. Price is fixed currently at $15 each.
Annie Lee is an artist who paints her creative ideas on daily-use stuff from books to dolls to bags to jars. This site features some beautifully-painted mouse pads which are truly artistic to say the least. So if you're an artistic soul, this store should be your first choice to check out funky mouse pads. Prices range from $9-$10.
Although you can't find many mouse pads here, there are some really cool options to select from. Prices range from $2 to $20.
This site contains stuff ranging from kitchen appliances to clothing and accessories, but they don't have loads of mouse pads. However, here are some of them which are quite funky for their cool text and themes. You should check these out! Prices range from $6 to $10.
Funky Mouse Pads: Some Picks Worth Buying
Here is a list reviewing some of the hottest funky mouse pads based on the popularity among buyers and their rating.
Funky Bright Abstract Art Mouse Pad
This funky mouse pad is one of the best-sellers at Zazzle, and has got many positive reviews due to its outstanding art and bright, glowing colors. It's just perfect for anyone who loves abstract art. Costs $12.35.
Daily Mood Tracker Mouse Pad
Are you looking for an interactive funky mouse pad? This is a perfect mouse pad that can serve as your notepad on which you can jot down important points. It comes with 60 sheets and the text can be removed later and you can re-write everything from the start! Available for $9.99.
Starry Night by Van Gogh Mouse Pad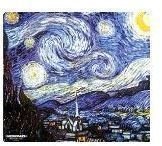 If you're looking for a masterpiece, this mouse pad is your best bet. It features the famous Van Gogh painting Starry Night which makes it one of the best-seller mouse pads at Amazon. You can get it for $7.99.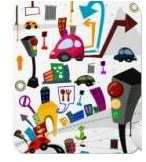 This vertically-rectangular mouse pad is a nice pick for a kid or someone who loves mild abstraction of daily life. The mouse pad is one of the top-selling ones at Zazzle and is available for $12.35.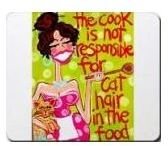 If you're looking for some humorous yet cool mouse pads, this one is the best bet. With funky, bright colors this mouse pad is one of the most-liked mouse pads at Café Press. The top is made of durable cloth, with rubber backing at the back. Costs $15.50.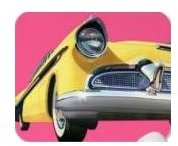 Any crazy drivers out there? Well, this mouse pad is quite funky, cool for everyone who is into cars and yes pinks! It's available for $10.95.
This cloth-top mouse pad is one of the best abstract design mouse pads you'll find online. Also, you might love the bright colors and eye-catching pattern it features. Costs $15.50.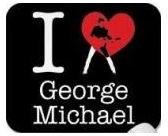 I Heart George Michael Mouse Pad
This mouse pad is one of the funkiest mouse pads at Zazzle and has proven to be very popular. The design is simple yet cool for any person who loves George Michael! Available for $12.35.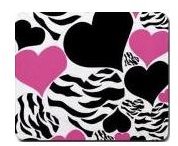 This rectangular mouse pad is very simple and is made of a durable heat-resistant polyester fabric top. With funky pink hearts on the top of zebra print, this mouse pad is sure to catch everyone's eye. You can buy it for $5.25.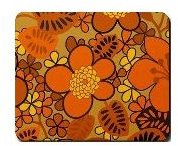 Funky Floral 1960s Hippie Art Mouse Pad
This groovy retro floral print mouse pad is perfect for someone who loves 1960s hippie art. A selection of hippie flowers in brightly-colored orange and burnt sienna shades makes it funky cool choice. Available for $15.
These are just some of the funky mouse pads that you can buy online, however, the choices are just unlimited. Happy shopping!