Best HP Wireless Mouse and Keyboard Packs For PCs & Laptops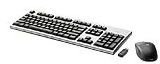 HP - A Great Choice for Wireless Keyboards
Why buy a keyboard when you can by a mouse too? Why buy a mouse if there's also an option to buy an additional (or free!) keyboard?
Various companies issue computer mice and keyboards together in special packs, saving you the problem of choosing between various desktop input device solutions – they just stick them in the same box.
One such company is HP, who along with a few others, offer wireless as well as wired keyboard and mouse bundles.
Let's take a look at some of the best HP wireless mouse and keyboard combi packs!
HP Wireless Mouse and Keyboard Specifications
Each of these bundles achieves one key thing – they get rid of the wires. The idea of this is to get rid of the unsightly tangle found across offices and desktops around the world, and it gives the user some flexibility in how they position their keyboard and mouse.
All of the examples listed here achieve this task easily, which means your choice isn't between different keyboards with different wireless abilities (something made possible via various USB receivers) but different HP wireless mouse and keyboards with a few extra features. Also note that each of these devices operates at 2.4 GHz, so keep the cordless phone well away from them!
HP Wireless Mouse and Keyboard Packs
Let's get started then with our look at the best wireless mouse and keyboard selections from HP with the sedately-named HP Wireless Keyboard and Mouse. This combi-pack (right) resembles the mouse and keyboard you would get with a new HP computer – a silver frame on the minimalist keyboard nevertheless manages to squeeze in multimedia buttons, and while they bandy the world "ergonomic" around this should be interpreted as a very low-level application of the word.
You should be able to purchase these devices at around $40 (£27).
After all, there would be no need to purchase the more expensive HP Wireless Comfort Desktop Wireless Keyboard if the basic option was particularly ergonomic, would there? With the now commonplace curvy design regularly associated with ergonomic keyboards, this HP device is designed for comfort working.
Anyone intending to pay for comfort, will need to fork out $60 (around £45) for this pair of input devices.
More HP Wireless Input Devices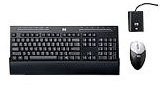 If multimedia hotkeys are your thing, however, the HP Wireless Multimedia Keyboard and Mouse (pictured right) should be just up your street, offering comfortable typing and a mouse with an 800 dpi sensor as well as a now-obligatory scroll wheel. This keyboard is a match made in heaven for anyone with an HTPC, and it's available at a good price too!
With a similar price band to the ergonomic comfort keyboard and mouse, you can get this device for under $60 (around £45).
Finally, HP also have an Easy Access Wireless Keyboard and Mouse pack, again available in the same price range, which is also equipped with hotkeys, designed to be stylish and comfortable and with its "ease of access" tag, offering "stress-free responsiveness". At the end of the day, however, this device is easy to use, the mouse has a clickable wheel and the receiver doesn't have to be in the line of sight of your keyboard and mouse, allowing great flexibility.
It Doesn't Have to Be HP
You should know of course that there are plenty of other manufacturers of wireless keyboards and mice besides HP. For instance, Logitech make a great selection of devices, and even had a wireless and illuminated keyboard among their range, while Microsoft and Lenovo also feature wireless models among their large selections of input devices. Other notable manufacturers include Gyration, Labtec and of course Dell.
So unless you absolutely have to have HP, don't forget to shop around for your wireless mouse and keyboard!