HP Laptop Computers for 2010 - The Fastest HP Laptop and More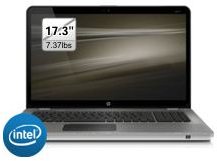 What's the Best HP Laptop?
Laptop computers make great Christmas gifts, but there are so many to choose from these days and often times it is hard to pick which ones are the best. In this article, we'll look at HP laptop computers and their current model line-up. Maybe Santa will put an HP laptop under the tree for you this year.
(Image credits: All images taken from HP.com)
HP ENVY Series
HP's current top of the line series is appropriately called ENVY and prices range from $999 to $1599 and on up depending on what you add to them. These powerhouse machines are loaded out with a full gig of video memory backed by an ATI Mobility Radeon HD 5650 or 5850 chipset, an Intel dual core processor, 4-6 gigs of RAM, a 500 GB hard drive, BEATS audio premium sound, plus a 2 year warranty. These computers are big and heavy, but configured like a desktop. They are best suited for artists and technicians alike, and HP says they were designed for music.
HP Pavilion High-Performance Series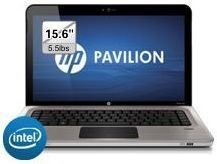 If you are looking for a good high performance laptop that won't break your budget, check out the HP Pavilion Dv series of high-performance laptops. For $549 you can get the base model Pavilion dv6z series with an AMD dual core processor, 4 GB RAM, and a 500 GB hard drive. For $100 more you can get the dv6t series which has a faster Intel i3 Dual Core processor and an HD display. For $699 you can get the dv7t series which has an even faster Intel i3 Dual Core processor and more graphics memory support for better gaming and video performance.
Moving on up the line, there is the dv6z Select Edition series starting at $749 and it includes an ATI Radeon HD 4250 graphics chipset, plus more memory and a bigger hard drive than previous models. For $50 more you can get the dv6t series with an Intel processor. The cheaper dv6z is actually the better deal because it has superior hardware, although some people don't like the AMD processor. If you want the top of the line model, there is the dv7t Select Edition series which features a 17.3 inch screen, Intel i5 Dual Core processor, Radeon HD 5470 graphics with 512MB of video memory, and much more. This supercharged laptop starts at $949.
HP Everyday Computing Laptops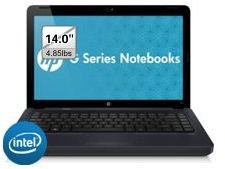 Maybe you don't need the biggest, fastest thing off the shelf, or maybe you don't need to worry about portability. For a great many PC users, a basic laptop is all that it is needed to get online, do basic word processing and email, or perhaps play a few games. For this reason, HP offers a great line of affordable laptop computers that range in price from $379 to $599.
Their base model Compaq Presario CQ62Z series has an AMD processor, 2 GB RAM, and a 320 GB hard drive plus full wireless capabilities. It's perfect for general use and starts at just $379. For about $50 more, you can get the HP G52m series with similar features an 3 GB of RAM. Both have 15.6 inch screens. HP also makes a G42t series that has a much faster processor, but a smaller 14 inch screen. It sells for $449. For $30 more you can get the G62t series with the 15.6 inch screen. If you don't like the smaller screens on laptops, there is the $599 G72t series with a 17.3 inch screen and backed by an Intel i3 Dual Core processor with 4 GB of RAM.
HP Ultra-Portable Laptops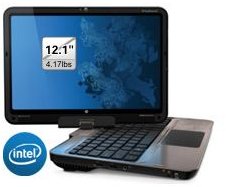 If you do a lot of travelling with your computer, you're going to want something lightweight and that's where the HP series of ultra-portable laptops come in. These machines feature slightly smaller screens than other models, and their overall weight is often half that of other models. For a compact little machine that's a step up from a Netbook, check out the Pavilion dm1z series with its 11.6 inch screen and AMD processor. It weighs just a little over 3 pounds and starts at $449. For $100 more, you can get the Pavilion dm3t series which features a larger screen, faster Intel processor, and a larger hard drive. It only weighs a half pound more.
For $579 you can get the dv5t series which is the heaviest of the bunch at just over 5 pounds, but it comes with an Intel Pentium P6100 processor, 4 GB RAM, and a 500 GB hard drive. For something much sleeker with its polished metal case, you can spend $729 on the dm4t series with an Intel i5 processor and 14" screen. It weighs 4.4 pounds. If a tablet PC with touchscreen capabilities and a rotating screen is more your thing, you may also consider the Touchsmart tm2t series that starts at $849.99.
HP Mini Netbook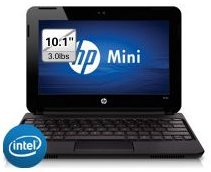 Netbook computers are huge right now, figuratively speaking. These little machines perform most of the duties of a full size laptop, but come at the price of a video game console. They are perfect for travelers who want something small to carry, or for kids or college students. The HP Mini series of computers starts at just $279 and features a 10.1 inch display, 1 GB of RAM, integrated webcam, wireless capability, and much more.
HP Slate 500 Tablet PC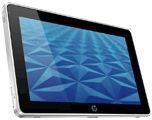 Perhaps someone in your family has had their eye on an iPad, but doesn't like the limitations of the hardware or the fact that it's not a fully fledged computer. In that case, you might want to consider the HP Slate 500 Tablet PC. It looks a lot like an iPad, but is actually a Windows 7 machine with a touchscreen interface, USB ports, and much more. It is currently classified as a business machine and HP is supposed to have a home user model out sometime in early 2011. For a detailed comparison of the two devices, be sure to read my article on the HP Slate 500 vs. Apple iPad.
HP Laptop Accessories
Even if you aren't the one buying a laptop, but know somebody who is getting a new one, there are plenty of laptop accessories that make great gifts. For starters, every laptop owner should have a decent laptop bag to carry their machine around. It's also nice to have things like docking stations and external mice to make regular use a bit easier. You may even consider getting them a new iPod to go along with their new machine, but be sure to show them this this article on how to transfer your iTunes library in case they have an older computer.