Selection of the Best Wireless Keyboards for Christmas
Why Buy Wireless?
Wireless keyboards afford a particular luxury – you can sit pretty much anywhere in range of the reception device. This is particularly good if you have a large monitor and want to sit back from your computer to perhaps play games or word process, or if you have a home theatre PC (HTPC) setup for watching movies and other content.
Alternatively, you might be using your wireless keyboard with a carputer/CARPC, or simply want a good portable keyboard solution.
These devices can also be a rather mixed bag, with some being top quality and others running into problems as soon as someone uses a cordless phone nearby. Let's separate the wheat from the chaff and take a look at the best wireless keyboards for various purposes.
Best Wireless Keyboard & Trackball
You can dispense with your mouse completely if you opt for this Wireless Keyboard & Trackball device, which also employs the optical trackball on one side of the keyboard and the mouse buttons and scroll wheel on the other. This sort of turns your keyboard into a giant game pad if you plan on tackling games, but with its multimedia and internet hot keys, this device is a top multipurpose wireless keyboard choice with some fantastic reviews at www.gizoo.co.uk where you can find it for £34.95.
Meanwhile the same device is available in the USA for around $60.
Best Budget Wireless MultiMedia Keyboard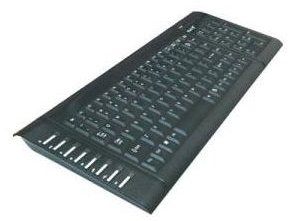 Remarkably, this wireless keyboard is priced at just over £10 in the UK, where it is available from www.it247.com. Equipped with the common 105 keys of a full sized keyboard and capable of being setup with a USB port on Windows 98 or later, while there is no specification of Windows Vista or Windows 7 these are supported also.
Getting a decent wireless keyboard for this price is impressive – and thankfully there is an on-board low battery indicator to let you know when the device is going to start struggling.
Best Super Mini HTPC Wireless Keyboard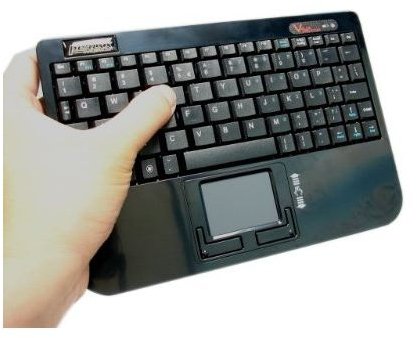 This great keyboard is wireless and small and is perfect for anyone setting up a home theatre PC (HTPC). With a built in trackball and small dimensions, this device is an ideal choice for interacting with your HTPC, whether you're choosing content to view or sending messages to people.
Utilizing a USB dongle receiver on the 2.4GHz band, this mini HTPC wireless keyboard is lightweight and you'll get optimum reception at a maximum distance of 10m.
Find the Perixx Periboard at digitalpromo.co.uk in the UK or on Amazon where it retails at $85.
Best Backlit Mini Wireless Keyboard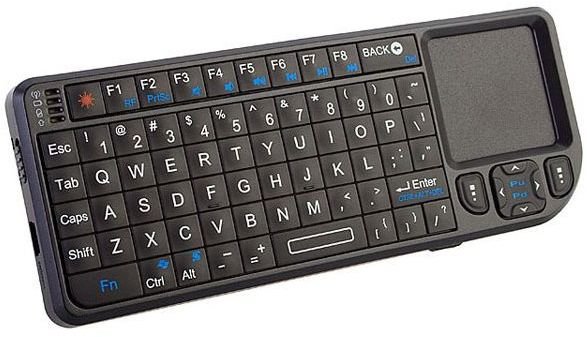 This unusual keyboard from Rii combines being wireless with being small and backlit, and is designed for use with all versions of Windows (including Windows CE, the operating system behind the old Windows Mobile platform).
Of course as you can see, it is as much mouse as it is keyboard, and you might even use it as a remote control for presentations (employing its laser pointer) HTPC or as part of a CARPC setup!
Find out more at www.logicalmart.com where you can find it for under $50 (£80) - and check out more illuminated wireless keyboards here on Bright Hub.
Best Wireless Mini Keyboard with Touchpad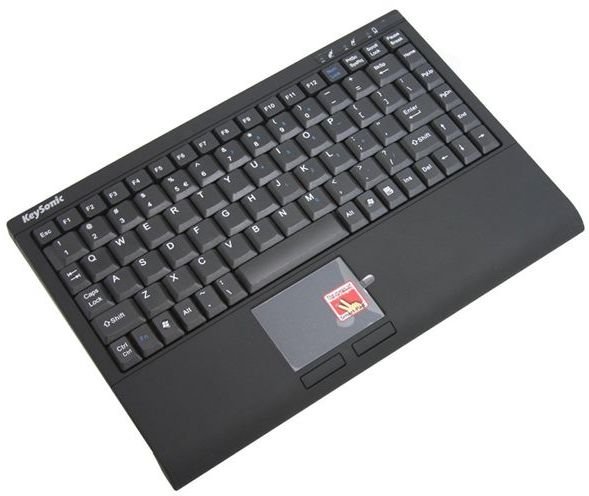 With a laptop-style keyboard and mouse style touchpad, this wireless keyboard is a great choice for anyone used to using a laptop and moving to desktop for the first time, or just wanting a useful wireless keyboard that they can quickly pack and unpack without wires and the hassle of a mouse.
It has a particular universality about it too – you can use this keyboard with your PC, with a remotely positioned laptop, with an HTPC and with a CARPC. This wireless keyboard is also great for office use, particularly PowerPoint presentations.
You can find this keyboard on Amazon for $65 (or Amazon UK for around £30).