Laptop Buying Guide: Lenovo Vs Toshiba
Lenovo Laptops
I have had my Lenovo G530 for a little over a year and it cost me around $800—I know it's antiquated now, but it was handy so I first compared this antique to my friend's antique Toshiba before I stepped into the laptops of today's technology.
On my outdated Lenovo, it took only 3 months for some of the letters to wear off of their respective places so it's lucky I can type by touch. It's also very heavy (almost 7 pounds) and is tough to tug around so although it's efficient enough, I hate to travel with the thing.
The price at the time (a year ago) was around $800 for this Lenovo with Windows XP, but you can get a G530 for around $500 and a newer model of the Lenovo (which is similar), the G550 is around $1,000.
I wanted to compare my Lenovo G530 to a similar Toshiba, however so next I'll go into more detail on Lenovo vs. Toshiba—or at least the older models!
Image Credit: Lenovo G550 courtesy of Amazon.
Toshiba Laptops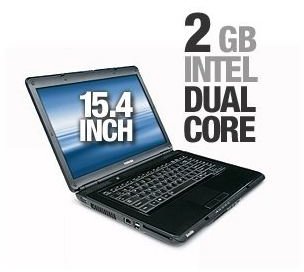 First off, I called a friend that has a Toshiba L305-S5921 Notebook so I could attempt to compare apples to apples. Needless to say, I found out through Internet research while this Toshiba was a close model to compare to my Lenovo, both as I mentioned before are older and possibly outdated models; hers also cost around $800 a year ago.
Both the Lenovo and the Toshiba reviewed here were built in 2009. I liked my friend's Toshiba but it was extremely slow when browsing; we both have the same Internet provider and router box so I would have to say her processor was inferior to what I had in my Lenovo. I also didn't like her keyboard and just like my Lenovo, the laptop itself was heavy at around 7 pounds and she told me she basically took it nowhere.
I'm sure you're thinking by this point, that when considering Lenovo vs. Toshiba, what about the newer models and how do they compare? Basically, I think both my friend and I are ready for new laptops, so I did some further exploring.
Image Credit: Toshiba L305-S5921 courtesy of Amazon.
Toshiba vs. Lenovo Laptops – The Newer Models
When looking at Lenovo vs. Toshiba laptops I examined the midsize category, because both companies produce a similar product and I wanted to compare the same model sizes. So, I compared the Lenovo IdeaPad Y560d to the Toshiba Satellite A665-3DV.
It seems 3D is the latest technology for laptops these days and both of these models come in around $1400-$1600, depending upon where you buy one. With a little help from CNET and a friendly salesman at a big box technology store, I was able to narrow down the features on these two models to determine which one came in at number one.
Toshiba A665-3DV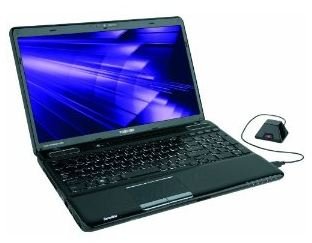 This Toshiba model laptop features a 1.73GHz Intel Core i& 740QM processor with 4GB of memory along with its Intel HM55 chipset. Nvidia provides the graphics including blu-ray and it comes with Windows 7 64-bit edition. It weighs about 8 pounds, the screen size is 16 inches with a 1,366x768 pixel resolution and the speakers are indeed awesome.
At the big box electronics store I did the touchy-feely thing and the first thing I liked right off was its pretty sturdy keyboard—I noticed no movement, unlike my antique Lenovo which often feels like I could put a cookie sheet under it. The salesman told me the finish disallowed fingerprints but I wasn't convinced—just because its finish is of a textured nature doesn't mean those CSI folks couldn't get my prints and because I eat when I work on my laptop, I'm sure this statement could be dispelled.
I had to move the screen back at an angle to really enjoy the 3D feature and if I moved the position, everything got fuzzy; it does have a 120Hz display, however. The salesperson mentioned that if I were a gaming type, the screen probably wasn't large enough.
Because I type more than I browse, I didn't like how the mouse touch pad was off to the left, but you can disable the touchpad and install a regular mouse if you want. I liked that it came with 4 USB ports, HDMI and VGA ports as well as a media card reader - and if I really wanted to, I could charge my BlackBerry on this machine. I'd buy this laptop, but I'd disconnect the touchpad feature and the price is stiff at almost $1600 bucks.
Image Credit: Toshiba A665-3DV courtesy of Amazon.
Lenovo IdeaPad Y560d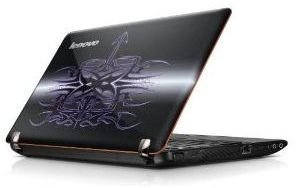 Because I have a Lenovo, I tried to be as fair as I could be here. This monster also comes with 3D technology and some hip hop 3D glasses—and the price is lower than the Toshiba at around $1,400.
It features an Intel Core i7 CPU and ATI Radeon 5730 graphics. My big box technology salesman pointed out that the Toshiba offered better 3D technology than this Lenovo—but the price may have something to do with that.
Its memory is 4GB, 1066MHz and the chipset is a Mobile Intel PM55 Express. The Windows 7 64-bit operating system is the same as the Toshiba and the screen size is 15.6 inches (1366x768 pixels). It weighs a little less than the Toshiba at around 6.5 pounds.
I'm not sure why the manufacturers are so concerned with fingerprints or scuffs, but this Lenovo comes with a design on the cover that is etched—so no need to worry about those nasty identifiers; just in case you're running from the law.
The touchpad is right where mine sits on my antique Lenovo and I liked that. I also get 4 USB ports and a SD card reader along with great speakers. Again, for the 3D to take effect, one must maneuver the screen around (tilt it) to see the full enhancement of this laptop; and the 3D quality is not as good as that of the Toshiba.
Image Credit: Lenovo IdeaPad Y560d courtesy of Amazon.
The Bottom Line - Toshiba Wins!
Because I have a Lenovo, I thought I'd be biased here, but I'd probably take the Toshiba even if it's priced higher. Why? Well the big box technology guy liked it better and so does CNET for one.
Also, the Toshiba seems to have more features and fun stuff compared to the Lenovo, even if it is a little heavier - and you never know when the gamer in you will emerge, right? Plus what I could find on customer support—Toshiba wins hands down.
All in all, between these two laptops, the Lenovo vs. Toshiba, I'd say the Toshiba wins here and when I have an extra $1600 lying around, I'll probably splurge and buy the Toshiba.