Best (Computer) Ergonomic Keyboards for Christmas
Why an Ergonomic Keyboard?
With typing-related injuries increasing on an annual basis – thanks to more and more people getting computers and using badly designed keyboards – Christmas might just be the right time to have a look at the best ergonomic computer keyboards.
Something like this can prove a great gift to anyone that has experienced problems with their elbows, wrists, fingers or even back from intensive typing on an unsuitable device, and our roundup of the top 5 ergonomic keyboards features a range of devices to suit all users and budgets!
Fujitsu-Siemens Ergonomic Keyboard
Fujitsu-Siemens wired Ergonomic Keyboard has a 30 degree split through the center of the keys, maximising comfort with its front-to-back inclination.
What all this means is that you should be able to trust this particular keyboard to leave you in no pain whatsoever – and having tried it out I can confirm that it gives a very comfortable and pleasurable typing experience.
Thanks to its quality, you will have to pay £80 for the pleasure of comfort. The Fujitsu-Siemens Ergonomic Keyboard is available across Europe and from Amazon.
Logitech Wave Cordless Ergonomic USB Keyboard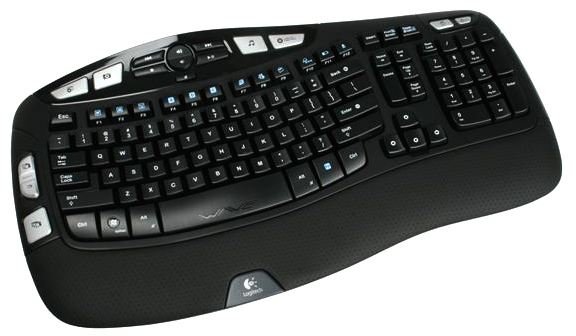 From popular peripheral and user interface manufacturers Logitech comes their new cordless ergonomic USB keyboard, equipped with a palm rest, wave-shaped contoured key design and all of the usual hot keys you would expect on a keyboard this big.
It's also cordless, so it will suit any user, particularly one with a Windows Media Center equipped PC.
The $69.99 RRP is reduced at www.outletpc.com to just $49.98, a great for any ergonomic keyboard and a superb price for a cordless one!
Keytools Microban Ergonomic Keyboard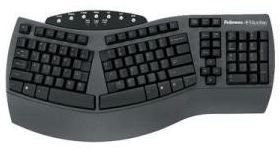 Available from it247.com comes the Keytools Microban Ergonomic Keyboard, a very serious-looking entry into this list which combines ergonomic keyboard design with Microban's antibacterial technology.
This is a USB keyboard with PS/2 adaptor for maximum compatibility, and it is refreshing to see an input device that takes the user's health seriously in this way. Keyboards have long been recognised as a breeding ground for germs and bacteria, so dealing with physical health two-fold should see Keytools achieve some success with this device, available on Amazon for around $40.
Microsoft Natural Ergonomic Keyboard 4000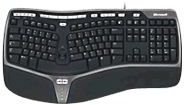 Microsoft have been making ergonomic wired and cordless keyboards for years, and the latest version, the Microsoft Natural Ergonomic Keyboard 4000, builds on this with more attention to individual key position as opposed to the overall moulding, and comes equipped with plenty of hotkeys, a palm rest and it's even spill proof, perfect for anyone reeling their coffee in shock from the ease with which typing can be achieved on this device.
Available around the world, pick-up the Microsoft Natural Ergonomic Keyboard 4000 at PC World in the UK or Amazon in the USA.
Goldtouch M16 Ergonomic Keyboard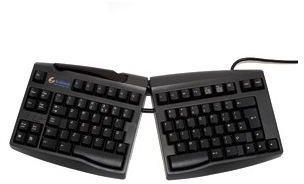 If money is no object, however, you might be more interested in this example, the Goldtouch M16 Ergonomic Keyboard. From specialist site www.online-ergonomics.co.uk, this remarkable keyboard ships for £139.95 in the UK or $92 in the USA.
So why is it so expensive? Well, the Goldtouch M16 Ergonomic Keyboard features a couple of useful hinges, allowing you to split it both vertically and horizontally for maximum comfort. It looks quite unusual when you see it detached in this way, but don't be fooled, it is a great solution to wrist, finger and back pain caused by typing.
(All images via corresponding links)