WildBlue Satellite Internet Service: A Review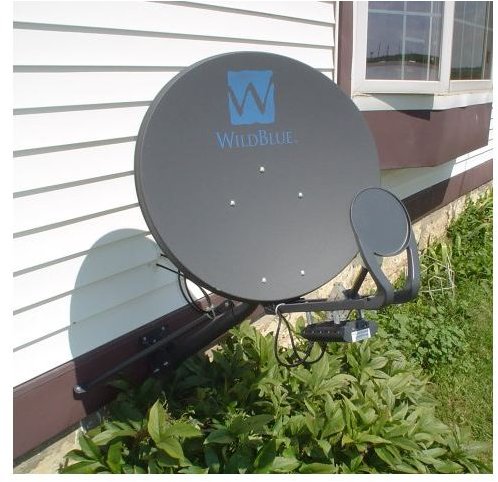 WildBlue Internet Service
WildBlue satellite Internet services offer high speed Internet connections to people who live in areas that are beyond the reach of
cable, fiber optic, and DSL services.
Wild Blue Internet service operates two satellites, Telesat Anik F2 and WildBlue-1 to provide Internet connectivity to even the most remote areas of the continental United States. These satellites communicate with your satellite modem, a device that is similar to a standard cable modem, via a mini satellite dish mounted in your yard or on your roof. These satellites have all 48 of the continental United States in range, so you can receive high speed Internet access even when cable, fiber, and DSL services are unavailable. Simply put, for many Americans, WildBlue represents their first opportunity to break away from old fashioned dialup modems and telephone lines to enter the information age.
Image Credit: Wikimedia Commons/Jesster79
Pricing and Packages
You can buy Wild Blue Internet service by ordering one of three of their available plans. These plans generally vary by speed with options of download speeds of 512 Kbps for the "Value" package, 1 Mbps for the "Select" package, and 1.5 Mbps for the "Pro" package with 128 Kbps, 200 Kbps, and 256 Kbps upload speeds respectively. Five email addresses come with the lower two packages while 10 email addresses come with the fastest package.
One thing to keep in mind when signing up for WildBlue is that thresholds are in place that restrict your access speeds after you use a certain amount of bandwidth, so you want to balance the type of Internet connection you order with speed and bandwidth so you aren't caught off guard.
Pricing for the "Value" plan is $49.95 per month, the "Select" plan costs $69.95 per month, and the "Pro" plan costs $79.95 per month.
Equipment
As it is with almost any new Internet service, WildBlue satellite Internet service requires that some equipment be installed at your location. You don't have to worry about having a few boxes left on your porch, leaving it up to you to have your Internet connection up and running. A professional installer will come out to mount your 28 inch x 26 inch satellite dish and satellite modem. The technician wont leave before making sure that your Internet service is up and running on your computer. Knowing that you won't be left alone makes WildBlue an even more attractive solution for rural Internet users.
Software
WildBlue equips subscribers with software options designed to make their new Internet service productive and safe. For example, the WildBlue email client is powered by Google's Gmail application. Users also receive customized access to Google Apps and Google Calendar so they have all the basic tools necessary to do more with their computers. WildBlue also provides subscribers with antivirus and antispyware software to make sure their online experience is safe.
A free WIldBlue customizable portal comes with every account, allowing users to collect the news, weather, sports, financial, and other custom information to create a powerful home page presence.
Signing Up
Customers who are interested in the Wild Blue Internet service should visit the WildBlue Web site to learn more, ask questions, and sign up. In just a few minutes you will have completed the first step in getting Internet access that is fast enough to keep up with the rest of the country.