What is the Best PNY Video Card?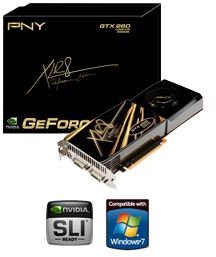 PNY Technologies, Inc. has been in the manufacturing business since 1985, but some of the best PNY video cards ever made exist on today's market. PNY manufacturers Geforce graphics cards exclusively for NVIDIA, and has excellent offerings at 3 price levels: the GTX 260, the GTX 460, and the GTX 480, all of which are PCI Express 2.0 video cards. While all the chipsets used in Geforce cards are the same among different manufacturers, PNY's commitment to quality sets their graphics cards apart from the rest of the crowd.
PNY Geforce GTX 260
Beginning our look at PNY's best video cards, we start with the DirectX 10 capable GTX 260. PNY's GTX 260 offering is priced for budget-minded gamers looking for a graphics card that offers excellent performance for a low price. Don't let the word "budget" fool you – the GTX 260 is plenty capable of running games such as S.T.A.L.K.E.R. and Crysis all the way up to 1920x1080. Best yet, this card can be found online brand new for under $150 at online stores like Newegg. Paired with the right CPU, the PNY Geforce GTX 260 is an affordable gaming card which still has a great deal of life left in it.
PNY Geforce GTX 460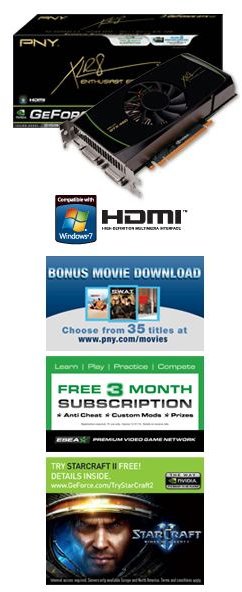 Sitting at the perfect sweet-spot of price and performance, we have PNY's Geforce GTX 460. Available for less than $230, this DirectX 11 Geforce graphics card is both affordable and capable of running any modern game thrown at it. There are two primary versions of this graphics card: one with 768 MB of memory, and another with 1024 MB of memory. If you game at higher resolutions – 1920x1080 and above – the version with more memory is absolutely necessary to getting the best gaming performance. Even if you game at a lower resolution, the price for the extra video card memory is money well spent.
Because of how the GTX 460 sits right at the spot where price and performance meet, this is the card you should spend your money on. At less than $230, this is a deal which is very hard to beat – it will play any modern game when paired with an adequate CPU, and will have good longevity; however, for some, efficiency isn't always key. Some prefer to play with the best and most expensive toys money can buy…
The PNY Geforce GTX 480

This is it. Coming in at over $400, this is the current prince of the NVIDIA GTX family, and PNY's video card is the king of the hill. There is no PC game on the market which will make this game blink, let alone stutter in the heat of an intense battle. Featuring 1536 MB of memory and 480 processor cores, and clocking in at almost 3.7 GHz, this is PNY's biggest and fastest graphics card. It's capable of playing all of your favorite games – Crysis WARHEAD, HAWX, Far Cry 2 – at the highest FPS on the highest resolutions.
Price and performance sweet-spots aside, if you have the money to spend, this graphics card has to be at the top of your wish list. The PNY Geforce GTX 480 is blazing fast, and will announce to the world that you are serious about gaming and the system you have put together.
Thanks for reading! For another look at NVIDIA's Geforce video cards, check out:
Choosing an nVidia GeForce Video Card to Use with an Intel Core i7 CPU