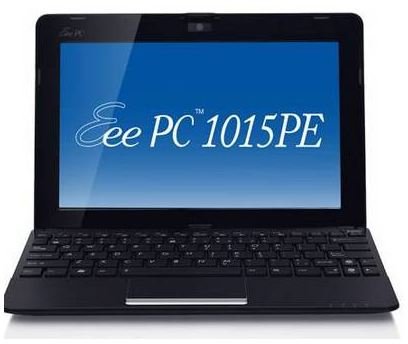 ASUS Eee PC 1215N
When it comes to netbook computers, users make a trade-off between power and portability. But, just how much power to give up is a matter of opinion. The Eee PC line by Asus is a popular option because it has models that allow each user to make the right choice for their personal needs.
The Asus Eee PC 1215N is for users looking to have more power and a bigger screen size. The 1215 N has a 12" screen with a native resolution of 1366 x 768, making it closer to "full-size" than most netbook computers manage.
Of course, a bigger screen means a bigger overall computer. The good news is that this gives Asus more room for the keyboard. The 1215N does not suffer from tiny keys and touch typists will pick up the key sizing within a few minutes. However, agressive typists may notice that the right SHIFT key continues to be half-sized, meaning that you have to hit what would be the left-half of the SHIFT key on a normal keyboard. Fortunately, the key to the right of the SHIFT key is a harmless function key. If you hit it wrong, it won't mess up your entire screen by a PAGE DOWN like on some other netbooks.
The bad news is that the weight of the 1215N netbook starts running up against more powerful ultra-portable laptop computers at nearly 3.5 lbs. However, the Asus 1215N maintains its affordable netbook roots, weighing in at just under $500 against your wallet.
This Asus Eee PC PC 1215N comes standard with 2GB of RAM and a 1.8-GHz Intel Atom D525 processor.
Asus Eee PC Tablet
The explosion of popularity experienced by the iPad has portable computer users wondering, what about us. While the Asus Eee PC Touch T101MT is not an iPad killer, it is not designed to be one. Rather, the Eee PC Touch offers user the power of a laptop with a touch screen, and a full keyboard. Its 10-inch screen provides plenty of space for comfortable web browsing, word processing, and more. Its convertible touch screen makes it easy for users to use the tablet in small spaces, and in situations where a smaller form factor is helpful like on the subway or bus, and in conference rooms or around a meeting table.
When folded out like a regular laptop, the T101MT offers a comfy keyboard and weighs in at just 2.86 lbs. The tablet version of the Eee PC is a great option for students and professionals on the road who need the ability to read and display easily.
Best Asus Eee PC for Long Battery Life
For some users, nothing matters more than long battery life. While outlets are becoming more common in more places than ever before, not every airplane, train, and bus has an outlet. Not only that, some people like to work hard and long wherever they are, and for them long battery life equals freedom.
The Asus Eee PC 1015 netbook has a battery rated for over 13 hours by the manufacturer. As every computer users knows, the battery life figures offered by manufacturers are thinly veiled lies that require the user to run under a set of conditions that no user ever actually works under, such as wireless networking off and the screen brightness set to the minimum. Still, the maximum battery life of the Asus 1015 is impressive with users able to expect 10+ hours of battery power under normal circumstances. In this day and age, you'd be hard pressed to come up with a non-camping scenario that requires going for that long without coming into contact with a power plugin.
It weighs just 2.76 lbs including this impressive battery, and manages to squeeze in a 92% sized keyboard with the 10" screen. This is the perfect Asus Eee PC for those who need long battery life.