Top four desktop PCs with price ranges starting at $1000- Built for Gaming and Power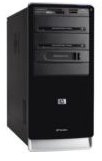 Below $1000 - HP Pavilion A6200N
Retailing for around $750 with an AMD Athlon 64 X2 2.6 GHz, this desktop PC is certainly a powerful home computer. Its 2GB RAM is enough to give the processor a boost although it can be upgraded up to 8GB. This computer would certainly please every member of the household since it answers data management and processing needs as well as gaming needs for the kids. This desktop PC features an NVIDIA GeForce 6150 chipset, and 2.6GHz processors speed plus 360GB HDD. One notable feature of this desktop PC is its photo organization and management functionality through HP's Photosmart Essential. You can also easily add additional storage by using the desktop PC's Pocket Media Drive bay. It also features a SuperMulti DVD burner with light scribe technology. This desktop PC runs Windows Vista Home Premium and reads fast even with an Athlon processor.
Below $2000 - Dell XPS 630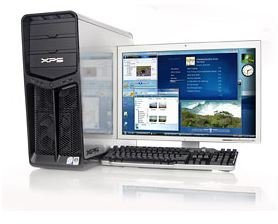 First the specs;
3.16 GHz Core 2 Duo E8500 CPU, nVidia GeForce 9800 GT graphics adapter, Dell SP2208WFP Monitor Model, 640GB HD.
With those major specs, what more could you possibly ask for in the Dell XPS 620 desktop PC- which only cost $1959? This desktop PC is certainly one of the best gaming PCs for that price range. Its graphics card is decent enough to give you a frame rate of 139 fps while playing Doom 3 at 1280 x 1024 resolution, with antialiasing turned on. This desktop PC comes with a standard wired optical mouse and multimedia keyboard combo. In short, the Dell XPS 630 seems to be a well-built and highly customized desktop PC worth every dollar you'd spend to buy it.
Below $3000 - Gateway FX541XG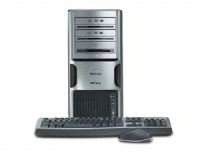 This powerful desktop PC is screaming speed as it delivers raw power and maximum performance. Featuring quad-core processing technology, dedicated graphics, tons of RAM and hi-fi sound output - we're looking at one of the best gaming desktop PC in the under $3000 price range. It also serves as a home media hub, providing high-definition output and hard drive space for your movie and music listening pleasure. A quick rundown of features and specs would give: an Intel Core 2 Extreme QX6850 Quad-Core processor, 500GB HDD, up to 8GB RAM, nVidia nForce 6801 LT SLI, 1333 MHz data bus speed, and a digital serial ATA hard drive. This desktop PC will set you back around $2600+.
Below $4000 - Xi MTower PCIe Centurion Power Desktop PC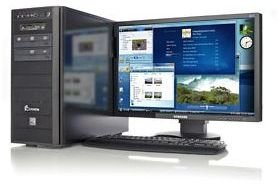 Retailing for around $3399, this desktop PC scored a whooping 132 on WorldBench for performance and sheer computing power. This power is brought about by a 3.16 GHz Core 2 Duo E8500 CPU and a pair of 2.5-inch striped RAID 0 Western Digital VelociRaptor drives. It features a XFX nForce 7901 Ultra SLI motherboard and an 80-Plus-certified-watt Cooler Master power supply which is bottom-mounted for lateral stability. It also comes with a Logitech laser mouse, a 24-inch Samsung 245bw display,and an EVGA e-GeForce 9800 GTX graphics card that provides fast gaming frame rates of around 200 to 250 fps. This is definitely one of the fastest pixel response time among desktops available in the market today. This desktop PC has a maximum of 600GB HDD. What more can you probably ask for?