Asus M4A785-M motherboard with support for the latest AM3 / AM2+ / AM2 AMD CPUs including 45nm processors, Phenom II, Athlon II, and Sempron 100 series.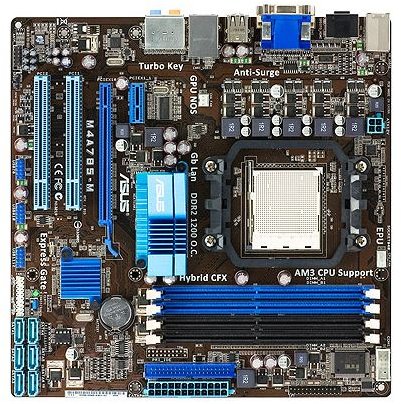 Hardware Support and Compatibility (5 out of 5)
The Asus M4A785-M motherboard offers a wide range of AMD CPU support at a reasonable price and is a solid starting point for gaming or productivity computers. Featuring the reliable AMD 785G / SB710 chipset, the M4A785-M accepts AM2, AM2+, and AM3 processors including the latest 45nm multi-core chips as well as Phenom II, Phenom, Athlon II, Athlon, or Sempron chips up to 125 watts. The front side bus supports up to 5200MT/s HyperTransport 3.0 for AM2+ / AM3 processors, and 2000/1600 MT/s for AM2 processors. This Micro-ATX board packs a lot of features into a small package, including six SATA connectors running at 3 Gb/s and the ability to configure RAID 0, RAID 1, RAID 0+1, and JBOD. There are four DIMM slots which support a total of up to 16 GB of DDR2 1200 / 1066 / 800 / 667 MHz RAM. The on-board video features an ATI Radeon HD4200 GPU and up to 512 MB of shared video memory, and has outputs for VGA, HDMI, and DVI on the board with dual monitor support, Hybrid CrossFire X support, and Microsoft Direct X 10.1 compliance.
Asus M4A785-M
Additional Features (5 out of 5)
The list continues with Gigabit LAN and 8-channel high definition audio and on-board S/PDIF. There is also support for audio jack detection, multi-streaming, and front panel jack re-tasking. 12 USB 2.0 ports, one PCIe 2.0 x 16 slot, one PCIe x1 slot, two PCI 2.2 slots and one UDMA 133 connector are available for expansion cards. The unique features of the M4A785-M include the Asus Express Gate instant-on web browsing environment, which can allow the system to boot into a web browser in about five seconds, without loading the installed operating system. This small footprint environment allows file uploading from SATA and USB drives or downloading to USB drives. Overclocking is made safe and easy with the Crash-Free BIOS 3 feature, allowing a backup file of the BIOS to be created, as well as the CPU Parameter Recall (CPR) feature, which automatically restores the default settings for the CPU when the system hangs due to overclocking. The board even supports instant overclocking via the power button for an instant boost without the need to restart the system or exit applications or games.
Rear Ports

Drawbacks (4 out of 5)
With only one PCIe 2.0 x16 slot and only DDR2 support, this board may not meet the demands of the most serious gamers, but it should not be ruled out as a serious contender for gamers who have to balance their hobbies with a realistic budget. This board is perfect for upgrading older systems because it supports such a wide range of processors and can easily be used with existing hardware until newer parts can be installed.