Tips on Choosing a USB Mini Laptop Computer Light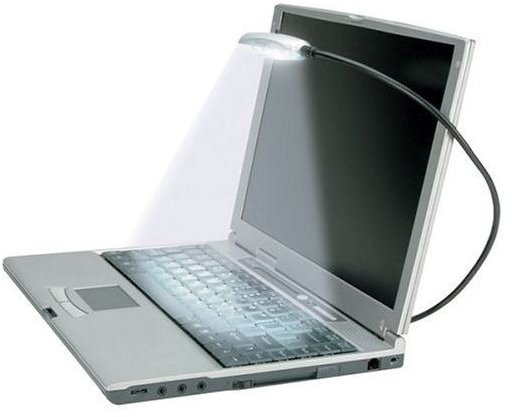 How to Choose a USB Mini Laptop Computer Light
Visibility
You will want to get a light which is as small as possible, especially if you need to use the light on the go. However, you must ensure that the light has a good beam range. The main aim of buying a laptop light is to provide visibility for your keyboard. Make sure the light beam covers your keyboard adequately, especially if you have a 17-inch laptop computer.
Flexibility
Choosing a laptop light with a flexible neck is a plus. You can adjust the light to the angle you need to suit different working conditions. Even with a flexible neck, you must ensure that it's stable. You don't want the light to fall off when you position it at a high or low angle. It would also be good if the light not only attaches itself to your laptop, but also to your table for extra flexibility.
Switch
Most USB laptop lights are meant to be basic devices to be used in an emergency. As such, they come without an ON/OFF switch. If this bothers you, look for a model with a switch so that you don't have to unplug it from the USB port each time you need to turn it off.
Let's now take a look at some USB mini laptop computer light models worth considering.
Kensington Flylight
If you're looking for a laptop light that doesn't take up much battery power, the Kensington 33120 FlyLight USB 2.0 Notebook Light is worth considering. It only consumes about 90 seconds of battery power per hour of use. The light is expected to last for about 100,000 hours of continuous use.
If you need to constantly adjust lamp brightness to suit different working conditions, this light will satisfy you. It comes with a built-in dimmer switch that gives you the brightness control you need.
At the time of this writing, the Kensington Flylight is offered for $15.49 at Amazon.
RiteLite Laptop Light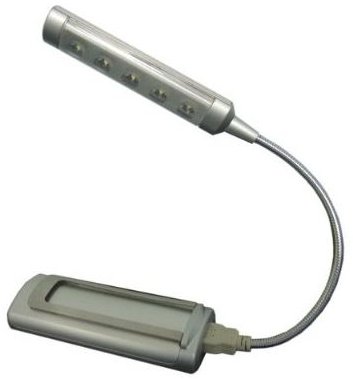 Take a look at this model if you don't fancy attaching a light to your laptop computer chasis. It has a magnet at the bottom which allows the light to be attached to a metal object at the desired distance from your laptop computer. While you can use your USB port to power the light, you can also rely on its battery-powered base, which is useful if you run short on spare USB ports.
A notable feature is its dual-mode lighting. The super white light provides illumination from the front. The soft blue light acts as an uplight which helps reduce eyestrain.
At the time of writing the Ritelite LPL792XLB 5-LED laptop light is offered for $12.46 at Amazon.
USB 10 LED Notebook Light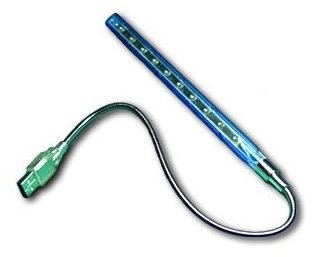 Consider this model if you don't wish to spend much for a laptop light. The notebook light comes with 10 LED bulbs. The manufacturer claims that it would be good for up to 50,000 hours of use.
It provides soft white light illumination, suitable for those who don't fancy incandescent illumination. A flexible arm makes it easier for you to adjust the light according to the height and angle you desire. The one thing that may leave you dissatisfied is the absence of an ON/OFF switch. However, it would not really be an issue if you're planning to use the light sparingly.
At the time of writing, the USB 10 LED Notebook Light is offered for $5.99 at Amazon.