The Belkin Wireless G Router Setup, Password, & Next Steps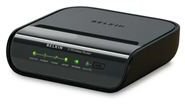 Purchasing a Router
The main reason for purchasing a wireless router, either for home or business, is to be able to access the internet without the use of wires. This could mean that you have a home or office in which someone with a laptop, PDA, or smartphone will be in or you just don't want the hassle of dealing with more wires than you have coming from your computer desk at the current moment.
There are a variety of wireless routers that you can purchase from either a local or online retail store. For the purposes of this article, we'll be looking at a Belkin Wireless G Router and how to enter the online web configuration, set up up the password, and take any further steps that you should take. Belkin routers can be found at most major computer and retail stores, such as Best Buy or Office Max.
Make sure that before or when you purchase the router that you also have a cable modem. Depending on how you plan on setting up your wireless network you may already have a cable modem and an active internet connection or you may be waiting for your Internet Service Provider to hook up your network, at which time they may be bringing a modem to you. In any case, make sure that you have the cable modem first in order to test your connection, then proceed to purchase a router.
Belkin Wireless G Router
After you have purchased your Belkin wireless g router and have removed it from the box, the first thing you'll want to do is start setting it up. This means connecting it to your modem and plugging it in. Once the power is on, lights should be green or grey, depending on their function. The power LED light should definitely be on, as well as any light that signifies that the modem is connected. Be sure to read the user's guide to learn more about your equipment.
Many routers will have user guides or instructions that tell you how to set up the router - some will ask that you run the software first, others may want you to connect the router first. Depending on your skills, you can either go by the book - if a beginner - or jump straight in to setting everything up - if intermediate to an advanced user.
The Belkin wireless g router setup password is the default IP address, username, and password that allows someone - usually the user - to access the online configuration page for the router. For a Belkin wireless g router, the IP address that you will go to is 192.168.2.1. After you hit the enter key, you will taken to the router's configuration page. Here, you will see a 'login' button; click it and you will be taken to the login screen.
The Belkin wireless g router does not come with a login or password, so you can leave both sections blank and click the submit button. It is highly recommended that you select a username and password for your router. Make sure it is something that no one will be able to guess. You can change the administrative password for the Belkin wireless g router by going to the Utilities option on the left hand side and choosing 'System Settings'.
You can continue on configuring your router, such as setting up MAC addressing - where only certain computers can or can not be on the network - or setting up your network ID and password. This should be done after you've set a password for your router. To do this, find the Wireless selection on the left of the screen and select "Channel and SSID" option. Here you can change the name of the network (the default is belkin wireless g router) to something you and others will recognize when they connect. Make sure to set a password here as well, so that your network is secured.
Image content @ Belkin.com