Things to Think about When You Add Internet to Charter Cable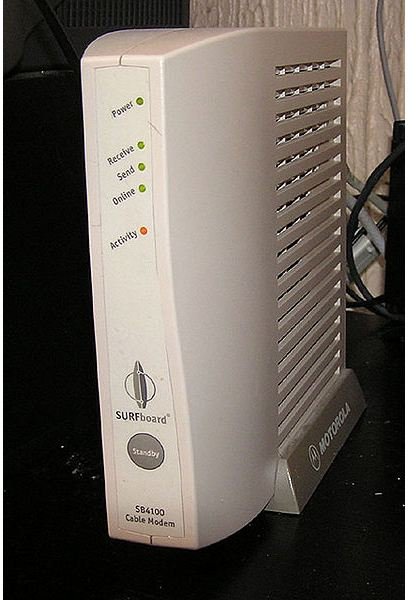 What is Charter?
Charter Communications is the number four cable company in the United States. The company has over five million customers in 27
states. The company offers standard cable television service, cable phone service, and Internet services to business and residential customers within its service region.
Perhaps the most well-known aspect of Charter is its 2009 high profile bankruptcy that resulted in the cancellation of its common stock and in the loss of some $8 billion to Microsoft co-Founder Paul Allen.
In spite of its bankruptcy, Charter continues to operate normally and continues to develop its products and services. Most recently, the company rolled out Ultra60, a 60 Mbps Internet connections to residential customers in certain service areas.
Image Credit: Wikimedia Commons/Roo72
Advantages of Charter Internet
Convenience may be the primary advantage you get when you add Internet to Charter cable services. After all, you already have a Charter account, so it will be fast and easy to add Internet services.
When you add Internet to your Charter account, a technician will come to your residence and install it, so there is absolutely no guesswork involved. All you have to do is be there to open the door. Installation doesn't take very long, so you will be surfing at high speeds in a very short time.
With Charter, you can decide to use your own cable modem or you can pay a monthly fee to use a modem from the company. Most people opt to use the modem from Charter because of convenience.
Most customers have access to service plans that range from 8 Mbps to 20 Mbps, and these are typically the fastest connection options in the area. Some Charter customers can subscribe to the Charter Ultra60 service which pumps in data at an astounding rate of 60 Mbps. These speeds usually outperform DSL and satellite services in virtually every area while remaining competitive to residential fiber service.
Other advantages of Charter Internet include the convenience of a single bill and discounts for accounts with bundled services.
Disadvantages of Charter Internet
The advantage of Charter Internet is clearly the impressive speed it delivers to its customers every day. Charter does not seem to have any particular uptime problems, although some service areas seem more prone to outages than others. This, however, comes with the business, so Charter could hardly be faulted if some customers are down more than others. Although technical issues may be under control, there is no guarantee that you will be using the Internet when you get home today. As already noted, Charter Communications is not in be best financial condition right now. The volatility of Charter's financial predicament may disturb some customers enough to prompt them to use an alternative Internet service.
The only serious issue to think about before you add Internet to Charter cable is the service plan: to get the best prices with Charteryou have to accept a two-year commitment. If your house gets foreclosed, or if you have to move before two years have passed, Charter will assess you an early termination charge much like a cellular company does. With the contract you are also tied into your current service and won't be able to change if a better high speed option such as FiOS comes into your area.
If you don't accept the contract and pay month to month, you will pay significantly more for the same service.
You Decide
Only you can decide whether to add Internet through Charter cable to your new or existing service. Many people feel like they are stuck with Charter because of the lack of options in their area. With Charter, however, you'll receive fast connection speeds without much risk and you can reduce your costs by making a long term commitment.