Using the iPad Camera Connection Kit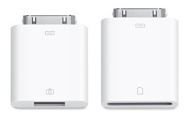 The iPad Camera Connection Kit Parts
Before I had my iPad there was no way for me to email photos I took on vacations to family and friends until I got home. I used to have a laptop, but I got rid of that and only traveled with my iPod Touch. Now, with my iPad and the Camera Connection Kit by Apple I can once again send pictures to family and friends while in the comfort of the hotel room.
The iPad Camera Connection Kit is very easy to use. It comes with two pieces that connect to your iPad's dock connector. One allows you to connect your digital camera to the iPad via its USB cable and import pictures that way. The second acts like a card reader and lets you import the photos right off your camera's SD card. I prefer the second way because it removes the need for one more cable to take with you, however, if your camera uses something other than an SD card you'll need the USB connector and cable.
Importing Photos To Your iPad
To import your photos into the iPad you connect your connector of choice and either connect the camera or insert the memory card. Make sure the iPad is on and unlocked, and if you are using your camera make sure it is on too.
Once everything is on and connected the iPad will detect the card or camera and the Photos app will open automatically. All of the images on your memory card will load. You will even see movies you may have taken with your camera. They are importable also, and playable on the iPad.
If you want to import everything, just tap the "Import All" button and all the images will be imported. A green check will show up on each image as it is imported. There is also a red "Delete All" button that will delete everything from the card without importing, if you have the urge.
If you only want to import some images, go through and tap the images you want to import. Once chosen they will have a blue check on them. Clicking the "Import" button this time will give you the option to "Import All" or "Import Selected." Click "Import Selected" and only those checked images will be imported. Like it does with importing all images, the check mark will turn green when that item is imported.
If you go out and take more pictures and come back later the iPad will remember what was previously imported and keep the green check on those images.
When everything is imported you will have the option to delete the images or keep them. This is up to you. I keep them until I get home and can import them to my iMac. However, I don't have to because I can import them straight from the iPad into it by connecting the iPad to my computer and opening iPhoto and import the photos as it it was a digital camera.
Once in your iPad the photos can be emailed, uploaded to MobileMe, or used in a photo editing app. I think it is great to just see the pictures on a larger screen instead of having to view on the small camera screen.
Have the iPad Camera Connection Kit? Leave your thoughts below.