Great Examples Of A Flash Drive With Key Loop Attachments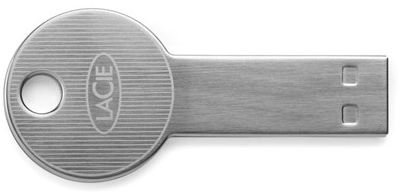 LaCie Has The Key
The ideal flash drive with key loop design is slender, durable, and fits naturally on a keyring. What design could be better than one that mimics an actual key? The LaCie company has an entire line of USB drives that resemble keys, not only in shape and size, but material as well. They're made of metal, and are sturdy enough to remain on your keyring at all times, if you so desire. The concept behind their design is both novel and practical at once. From a security standpoint, it helps to obscure from plain view the large amount of data on your key loop.
Smart Keyring
The images below are five key-shaped flash drives from LaCie. They are, from left to right, the CooKey, the WhizKey, the Passkey, the ItsaKey, and the IamaKey. While there's no accounting for their naming, a closer look at the design and specifications will show that these five are up-to-date and equipped with high data transfer rates and storage capacities. In addition, they are clearly ideal for a key loop.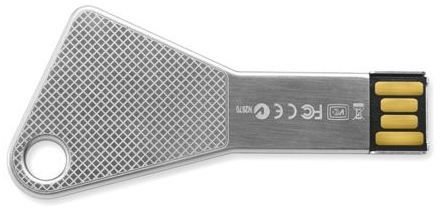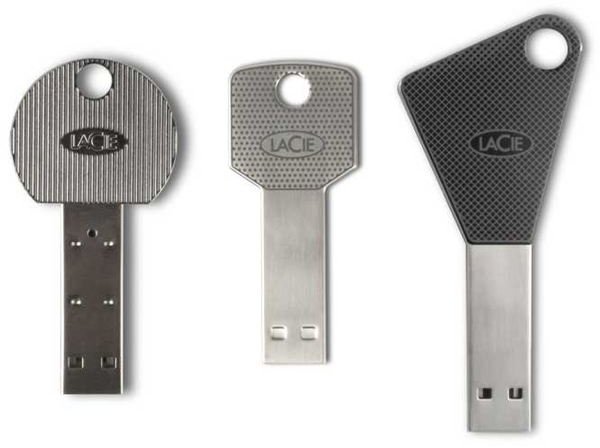 Five Drives in a Flash
The CooKey sports a circular handle, is scratch and water-resistant, and comes in storage capacities of 4GB, 8GB, 16GB, and 32GB. It writes up to 10MB/s and reads up to 30MB/s. The price range is $20 to $100.
The WhizKey's features are all comparable to the CooKey's with the exception of its design. It has a larger, angular handle, and the loop hole is situated at a corner end, which would most likely be preferable to the CooKey for frequent removal and reattachment to your key ring.
The ItsaKey is a similar design to the WhizKey. The difference between the two is that the ItsaKey is considerably larger than the WhizKey, and the others shown here. For comparison's sake, the WhizKey is 2.5 inches in length, where as the ItsaKey is 3.2 inches. Otherwise, it's features, storage choices, and price ranges are comparable.
The IamaKey conforms to the same standards, but its handle is square-shaped.
The PassKey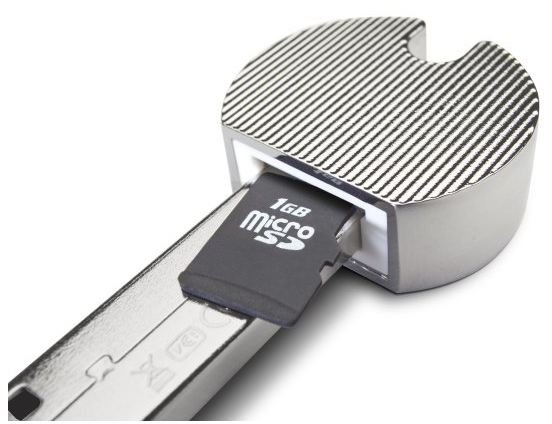 LaCie's Passkey is actually not a USB flash drive in its own right_._ It's actually a neat device which acts as an adapter for Micro SD memory cards. This translates its functionality to a USB flash drive that you can carry on your keyring. It's available for just $15, and is compatible with every Micro SD card on the market.
You can check out these five and more USB flash drives at the LaCie website. Once you've decided on one of these or perhaps another brand of flash drive with key loop attachments, you can boost your productivity by learning how to use your flash drive as a portable PC.
All images are provided courtesy of LaCie.