Zotac ION Motherboard Review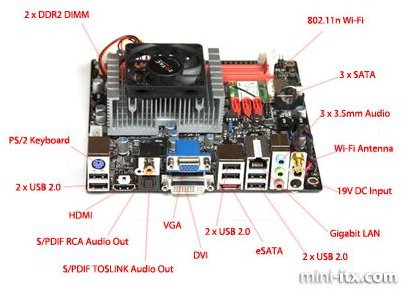 Specifications for the ZOTAC ION-ITX-A
These are the specifications for the Zotac Ion Motherboard. The Chipset is Nvidia's ION. The CPU is an Intel Atom N330 (dual core) running at 1.6 GHz with a 533 front-side bus. The memory is DDR2 with a speed of 800 MHz. It has 2 240 pin DIMM slots, so it can support up to 4GB per DIMM.
There are 3 Serial ATA 3Gb/s Connectors (RAID 0, 1 and 0+1). The integrated WiFi is 802.11n. The LAN connection is 10/100/1000 Mbps. There are 10 USB ports. Plus there is a19V DC Input (ION-ITX-A and C only), and on the ION-ITX-A and ION-ITX-C motherboards only, there is 1 Female Molex power connector (It comes with a Molex to 3x SATA cable).
The graphics card is the Onboard nVIDIA ION (nVIDIA GeForce 9400M) with nVIDIA PureVideo HD, CUDA, PhysX and nView support, for up to 2 monitors.
Source: Mini-ITX
See: Nvidia Geforce vs Nvidia Ion: What's the Difference? for a discussion regarding the two graphics cards, nVIDIA ION and NVIDIA GeForce.
..
The Mini-ITX Form Factor
The Mini-ITX is a 6.7 x 6.7 inch low-power form-factor motherboard developed by VIA Technologies. The Mini-ITX is a bit smaller than micro-ATX, and these boards can be cooled due to their low power consumption design. As such, they are useful for home theater PC systems, because fan noise can detract from the cinema experience. They are also used in small form factor computer systems, like Apple's Mac Mini and some nettops. Their design allows them to use four mounting holes that aline with four of the holes in the general ATX motherboard design. So the locations of the expansion slots and the backplate are the same. This gives the Mini-ITX boards the feature where they can be used in cases designed for larger ATX models such as the micro-ATX and other variants.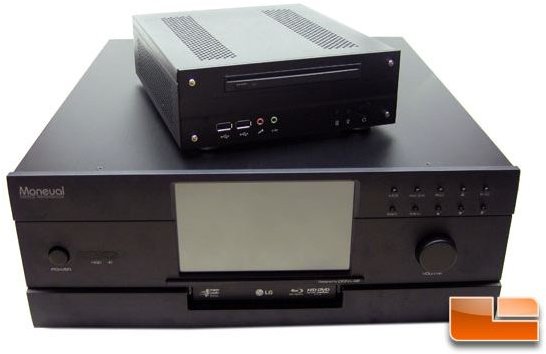 This image shows the difference between two form factors: Mini-ITX (top) and ATX (bottom).
ImageSource:LegitReviews
Performance
The Zotac Ion motherboard caters to the do-it-yourself crowd. It also offers some new features; it has a DC power input. The addition of a silent power source to power the Zotac Ion motherboard provides more flexibility an other possibilities. For example, the Zotac IONITX-A could be a candidate for a car computer. It would require only an inexpensive DC voltage inverter to receive power. The ION Mini-ITX dual core Atom processor and other specs make this a candidate for low-power silent PC and small form factor Home Theater systems. The low price of this motherboard also makes it easier to use as a platform for limited-use embedded systems.
Source: Hothardware
See also Nvidia Ion: Bringing Real HD Performance to Netbooks and More for a discussion of performance.