The Power of a Tablet PC Thin Client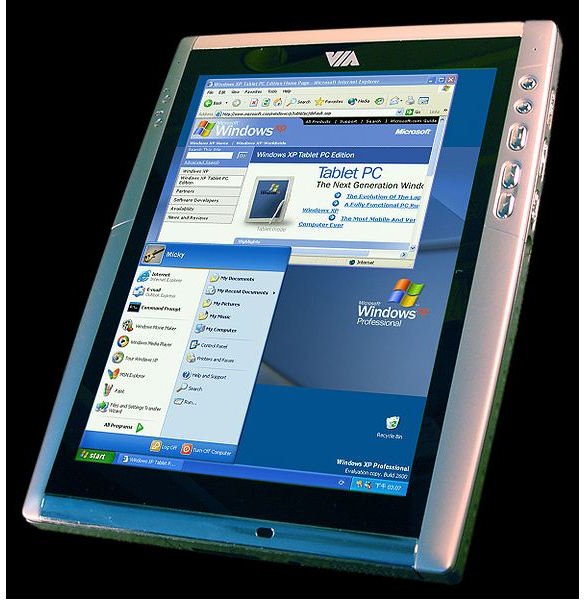 Introducing Thin Client Tablets
As thin computing takes hold in the workplace, interest is building for tablet PC thin clients that can easily move with workers as they move about the workplace or as they travel. These devices are lightweight, secure, and offer tremendous ease of use in a variety of conditions. Although the tablet thin client is a relatively new concept, a few tablet PC thin clients that are available either now or in the near future are listed below.
Image Credit: Wikimedia Commons/VIA Gallery
10Zig Technology
10Zig Technology offers a variety of tablet PC thin client computers, including the 410XP. This devices has a 10.4 inch display with touch screen and is "IP53 compliant." The system is based on Windows XP and is equipped with built-in terminal emulation connectivity to Microsoft Terminal Server or Citrix and is clearly designed to connect with Windows domains.
The 410XP is dust and water resistant and is rated to sustain impact from as high as 70 cm. The tablet PC thin client comes with integrated wireless and a stand as well as robust I/O options. The device can be configured locally or remotely using management software provided by 10Zig.
Pricing for the 10Zig 410XP is not publicly available, but potential customers can use the information on the company's Web site to contact the company for a price quote.
Tangent Thin Tablet 312
Tangent Computers offers a variety of thin client computing devices including its Thin Tablet 312. This tablet PC thin client sports an Intel Atom processor, built in wireless, and a 10.4" display with touch screen. By building the unit with a rugged case, Tangent makes this table PC thin client perfect for manufacturing or warehouse settings where mobility and durability are both significant requirements.
Powerful optional features help make the Tangent thin client attractive in the corporate environment. Options include a magnetic card reader, a barcode reader, and a camera, so the device can adapt to many environments.
Tangent does not publish pricing for its thin client devices, but the company does have an online quote request form available on its Web site.
Cisco Cius
At this year's Cisco Live event, Cisco displayed a new tablet PC thin client with which it expects to target to corporate enterprises. The device offers substantial cost savings over traditional mobile computing devices and higher security via the thin client computing model. The unit has a docking station that makes it part of a video phone platform when not in the hands of mobile workers on the go.
Cisco clearly has lofty goals for its Cius product, saying that it can replace laptops, desktops, and phones in the workplace while providing desktop and mobile teleconferencing capabilities. Based on these claims made by Cisco, corporations large and small stand to gain a lot through hardware savings alone.
Pricing for the Cius is expected to come in at around $1,100, with a release date some time in 2011.
The Android-powered device features a high definition seven inch screen with touch pad and is able to run multimedia applications if enabled. It was reportedly well received at its debut, with many companies interested in its locked down, thin client configuration. Cisco is touting the product as a versatile platform that can be custom configured based on the IT policies of each company.
Thin Computing and Tablet PC Thin Clients
Thin client computing is becoming one of the leading trends in modern information technology. This trend is fueled by new green computing requirements, increased network and data security, as well as reduced hardware and administrative cost savings.
Although many mobile laptop thin client computers are readily available now, tablet PC thin client availability seems not as robust, although some options are clearly available now. Tablet PC thin client devices promise to boost the productivity of mobile workforces inside and outside the enterprise and provide a range of opportunities to consolidate the number of devices used by each employee.