Learn How to Make Jump Drive Bootable: Easy Steps for XP, Vista and Windows 7 Users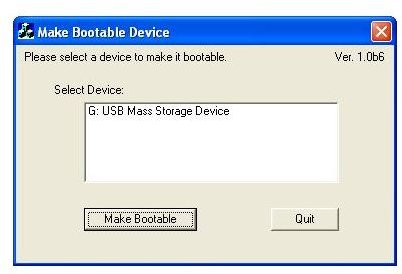 Steps For Vista and Windows 7 Users
Following the steps below will turn your USB drive into bootable media:
1. Connect your USB drive (4GB preferable) to your computer and backup its content as we're going to format the drive to make it bootable.
2. Open Command Prompt with administrative rights. To do this, press Win key+R, enter "cmd" in the search field and press Ctrl+Shift+Enter.
3. When the command prompt window opens, enter the following commands, in the same order as shown here:
a. DISKPART (Enter)
b. LIST DISK (Enter)
The LIST DISK command will show you the drive number of your USB drive. Note down this number as you will need it in the next step.
4. Now you need to enter the following commands in the command prompt.
a. SELECT DISK your-USB- drive-no (e.g. SELECT DISK 2)
b. CLEAN
c. CREATE PARTITION PRIMARY
d. SELECT PARTITION 1
e. ACTIVE
f. FORMAT FS=NTFS (We are making NTFS partition; you can also enter FAT or FAT32 here).
Note_:_ Your USB drive is being formatted now, the process will take a few seconds).
g. ASSIGN
h. EXIT
Do not close your command prompt as we will need to execute one more command in the next step.
5. Insert your Windows disc in the CD/DVD drive and note the drive letter of the disc drive and the USB drive.
Note: For illustration, I will use letter 'E' for disc drive and letter 'G' for USB drive.
6. Go back to command prompt and enter the following commands, one by one.
a. E:CD BOOT (Enter)
b. CD BOOT (Enter)
c. BOOTSECT.EXE/NT60 G: (Enter)
7. Close the command prompt and copy all of the Windows Vista/7 disc content to your USB drive.
That's how to make your Jump drive bootable. You can now use this USB drive as a bootable disc on any PC that supports the USB boot feature.
Steps For XP Users
Makebootable is a free application that makes your USB drive bootable with a few clicks, saving you from going to the command prompt and executing many commands. Another good thing about using this program is that you don't need to erase data in the USB drive before making it bootable. This is how to use Makebootable:
After downloading and uncompressing content from the zip file, you can run Makebootable without installing it. Here are the complete steps you need to use Makebootable to turn your USB drive into bootable media:
Run Makebootable.
In the main window, select the USB drive you want to make bootable.
Click the "Make Bootable" button to begin the process.
You have successfully created a bootable USB drive.
Note: Makebootable doesn't support FAT32 or NTFS, so if your USB drive is not under FAT file system, you will need to convert it to FAT. Remember to backup your data in the drive before reformatting it.
Remember that before you can use your bootable USB drive, you need to change the boot settings in your system BIOS. And the way to do this is to enter the BIOS setup with your USB drive still plugged in. When you are in the setup, go to the boot sequence section of the setup and select USB Device as First Boot device. After doing it, save and exit the BIOS setup. Now you should be able to boot up with your USB drive.
Related Articles
Ultimate Solution for your "Lexar Jump Drive Not Recognized" Error
The History of Computer Jump Drives