A Guide to the Best CPU Temp Monitor Software
CPU Temp Monitor Software
Monitoring your computer's CPU temperature can be important for many reasons, particularly if you're a computer enthusiast who enjoys overclocking your computer. Overclocking increases heat generation, and it must be monitored to make sure that your overclocking does not cause your processor to become too warm.
Even average users may want to occasionally run CPU temp monitor software, however. Computer fans are usually clogged up by dust over time, effectively giving your CPU a winter jacket. This can cause heat to build up. Keeping an eye on your CPU temperature will give you warning that there may be an issue.
With that in mind, let's take a look at some popular CPU temp monitor software.
Real Temp
A lightweight program made specifically for monitoring CPU temperature, Real Temp is straightforward. It includes a plain text interface that displays current processor load, speed, and temperature.
Real Temp also keeps track of your processor's temperature history. This information is displayed as the minimum and maximum recorded processor temperature. This information is helpful when you are testing to see how high your processor's temperature goes when placed under load.
Finally, the program includes a "Distance to TJ Max." No, this doesn't tell you the distance to your local discount clothing store. Instead it tells you how far away you are from the point at which the processor will begin to automatically throttle itself.
Real Temp is available for download from techPowerUp!
SpeedFan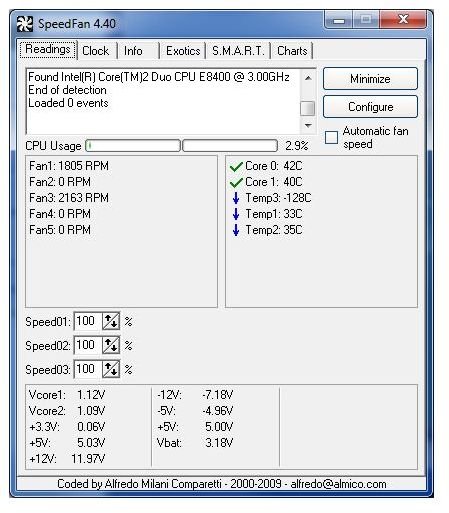 A well-known and respected CPU temp monitoring program, SpeedFan both keeps track of your CPU temperature and helps you keep track of how hard the fans in your computer case are working. In a limited number of systems SpeedFan can even control your case fans.
Besides CPU temperature, SpeedFan can also report the temperature of other devices inside your case. This includes such devices as your hard drive and your motherboard. The information reported will depend on the devices in your computer – some come with temperature sensors and some do not.
SpeedFan can be downloaded from the SpeedFan website.
PC Wizard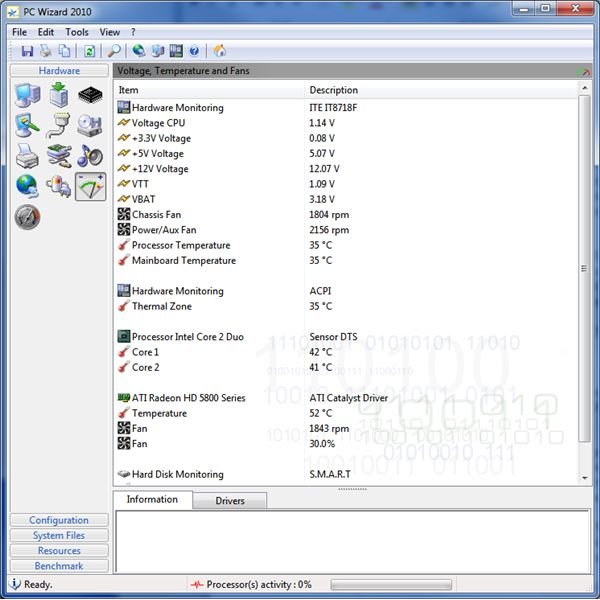 A general-purpose PC monitor utility, PC Wizard is one of the most powerful programs of its kind. It is able to not only give you information about the basic hardware you have installed, but also details. For example, PC Wizard will tell you want speed of RAM you have installed, the brand, and the timings of the RAM. It can report similarly detailed information about your processor, motherboard, video card, and more.
Part of the utility is a temperature monitor. This monitor reports the current processor temp, motherboard temp, and the temperature of any other available hardware such as the graphics card and the hard disks.
In addition to this, PC Wizard can display the current voltage of your CPU and the speed at which the CPU fans are running. This is very useful information for overclockers.
PC Wizard can be downloaded from the CPUID website.
Conclusion
All of these programs are good CPU temp monitoring software. The one you pick will probably depend on your goals. Real Temp is the most basic and focused on the CPU. If you want the additional features, however, SpeedFan and PC Wizard are good alternative options.