Keyboard Review - Top Ergonomic Keyboard with a Smart Card Reader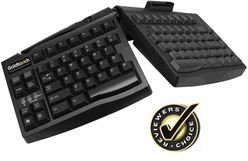 Not many people realize it, but using a standard keyboard doesn't allow the hands, shoulders and in particular the wrists to be positioned in the most comfortable way. By-and-large ergonomic keyboards address this problem with designs that allow for more natural positioning of the hands while typing. Finding a good ergonomic keyboard is relatively easy these days, but finding an ergonomic keyboard with a smart card reader is more difficult, but the Goldtouch SC2.0 Smart Card Keyboard fits the bill.
Features of Goldtouch Smart Card Reader Keyboard
One would be hard pressed to find a superior competitor to Key Ovation's SC2.0 Goldtouch Smart Card Keyboard, but it delivers on what it promises. The SC2.0 is a full size keyboard that can be conveniently folded for easy packing. This split keyboard allows for better horizontal and vertical adjustment to suit the needs of an individual in orienting the keyboard the way that best suits them.
However, the feature that makes the SC2.0 a winner is its inclusion of a smart card reader on the top right hand corner. This integrated solution frees up desktop real estate for users who would otherwise need a standalone card reader, and makes the reader easily accessible. This integration also simplifies the support process for IT personnel by eliminating one more device to support.
The Goldtouch Smart Card Reader Keyboard also does its part to speed up the time it takes to process a card swipe, and support various systems that it may be used with by offering a synchronous and asynchronous mode, a frequency adjustable clock to speed up transactions, and the ability to run at 3V and 5V.
Who uses Ergonomic keyboards with Smart Card Readers?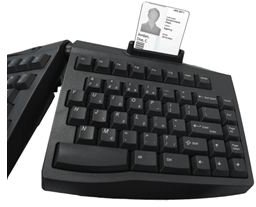 The inclusion of SCM STC II chip Smart Card reader ensures that the keyboard is compliant with many emerging and existing IT standards that are used in banking, e-commerce, authentication and network security based applications.
According to Goldtouch, the SC2.0 Smart Card Keyboard is being "utilized by all branches of the military, various Federal Assistive Technology programs, and numerous Federal agencies." Which is not surprising considering the fact that this solution is a proven hardware authentication technology that can be utilized to verify the identity of anyone before allowing access to the system.
Conclusion
This ergonomic smart card reader keyboard has several advantages, which are not limited to the security enhancement of having a convenient and easily accessible way of verifying user identity, but also the ability of the keyboard to be easily positioned to reduce and eliminate awkward and uncomfortable typing postures; therefore reducing the risk of repetitive motion injury.
The SC2.0 Goldtouch Smart Card Keyboard also reduces the amount of devices that the IT department has to support, especially when a standalone solution would need to be used in the absence of an ergonomic keyboard smart card reader combo.
Image credit:
"Ergonomic keyboard smart card reader combo." Key Ovation, LLC
"Smart card reader keyboard ." Key Ovation, LLC