ASUS M4A785-M Motherboard Review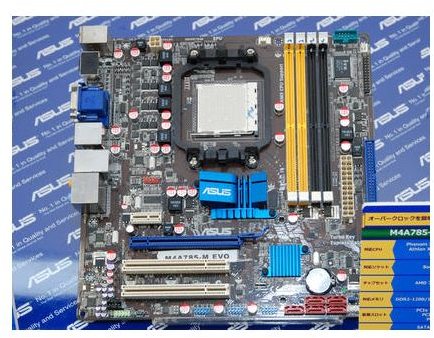 Overview
There are several features to look at in a M4A785-M motherboard review. It comes with a microATX form factor and an embedded Radeon HD 4200 graphics chip. The 785G IGP motherboard chipset is to be used with the AMD AM2 and AM2+ processors. It was released in the 3rd quarter of 2009.
**
Image source: PCGamesHardware
Structure of The M4A785-M Motherboard
The M4A785-M uses the new RD880G chipset in partnership with a SB710 Southbridge and an integrated Radeon HD 4200 graphics unit. The microATX form factor comes with four slots for DDR2 RAM (DDR2-1200 at max), one PCI-E x1 slot, one PCI-E x16 slot, and two PCI slots.
The motherboard also supports SidePort auxiliary memory, apart from the usual UMA. According to AMD the Integrated Graphics Processor (IGP) will be slightly faster than the RS780, but still being significantly faster than Intel G45 or NVIDIA's GeForce 8200.
The Graphics Unit - HD 4200
The HD 4200 is an onboard graphics unit, which is based on the RV620 chip. It supports Hybrid CrossfireX and DirectX 10.1. Additional features of the Asus M4A785-M include six SATA connectors, which are intended for the E-SATA, 7.1 audio output as well as connect tors for the VGA, DVI, and HDMI hardware set. The motherboard comes equipped with the Express Gate Technology. This allows users to surf in the Internet or play audio files bypassing the use of the actual operating system. The audio processing is placed on an integrated audio processing unit.
The 785G Chipset
The 785G is a chipset that is built around the Athlon II Processor the ATI Theatre 750, and the ATI Radeon with either the HD 4650, HD450, or HD4350 chips.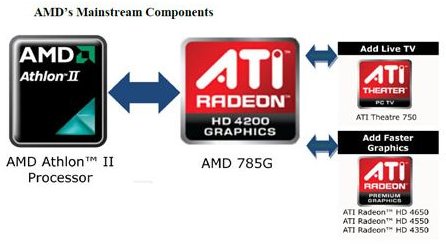 From the image, one can see that the 785G is based on different components. On is the Athelon II processor chip as well as theater 750 and the ATI Radeon chipsets.
Image Source:: Toms Hardware
For a comparison to the Intel 865G see: Intel 865g Motherboard Review
Key Fetures
The motherboard uses the microATX form factor and compatible with the AMD Sempron Processor. The Front Side Bus has a speed of 2600 MHZ. It has a PCI Express Video Interface and it uses the DMA/ATA-133 Ultra for Storage Controller Types
The integrated Input/Output ports are RJ45 Lan Port, PS/2 Mouse, PS/2 Keyboard, FireWire, USB 2.0. The expansion slots are PCI Express. There is RAID support for RAID 0,1 and 10. The Southbridge Chip is the AMD DB710.
Source: Shopping.com
Summary
The M4A785-M motherboard uses the 785G chipset. It combines graphics with the standard Athelon II CPU chipset. This allows graphics to be handled differently. The HD 4200 integrated graphics are capable of handling most high-definition video and can also run many games. For more on Motherboards see:PC Motherboards for Intel and AMD CPUs
Source: TechPowerUp