An MSI Motherboard Review of the X58 Series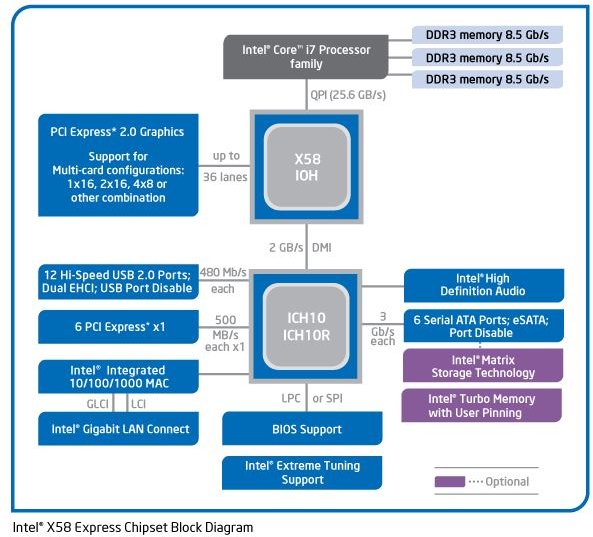 Overview
Motherboards are the integrated circuits that hold all of the computer peripherals together. These include the CPU, memory, audio, video, and network cards. The motherboard series called the X58 series is the latest motherboard series manufactured by MSI.
The motherboards using the Intel X58 chipset have several basic features common to all. The X58 IOH (Input/Output Hub), which is also known as the north bridge, supports up to 36 PCI Express lanes. Multi-card configurations in the 2x16 range are supported, and multi-card configs in the 4x8 size are also possible.
All current X58 boards feature and support at least 6 SATA ports with RAID 0, RAID 1, RAID 10, and RAID 5 support. Most importantly, all support the Intel i7 based processors.
The Intel X58 is a chip designed to connect Intel processors with the Intel QuickPath Interconnect interface to peripheral devices.
Image Source: EasyCom
For more on i7 Motherboards see:Top 3 Core i7 Motherboards
MSI X58 Platinum LGA 1366 Motherboard
On the lower-end of the MSI X58 spectrum is the X58 Platinum LGA 1366 motherboard. The features users will enjoy are its support for QPI speeds up to 6.4 GT/s, support for CrossfireX dual video cards, and also high-definition audio. Other custom utilities for overclocking and monitoring system performance are also available.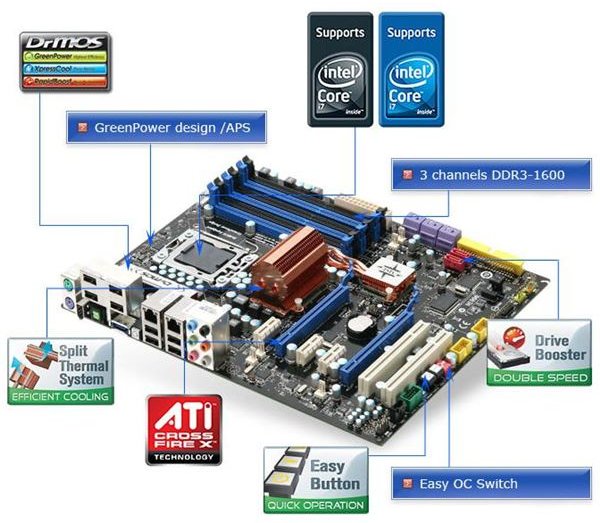 It supports QPI up to 6.4GT/s plus the ICH10R Chipset. It has a Hi-Speed USB (USB2.0) controller that runs at 480Mb/sec with support for up to 12 ports. There are 6 SATAII ports with transfer rates up to 3Gb/s. A PCI Master v2.3, I/O APIC. It is ACPI 2.0 compliant. It has Serial ATA RAID 0/1/5/10 and an integrated AHCI controller.
This motherboard is for computer systems use at the home end or small business. Small networks could be run with this machine as a domain controller.
Image Source: PC Perspective
MSI X58 Pro-E Motherboard
The X58 Pro-E's list of integrated peripherals includes Gigabit LAN, Serial ATA RAID, eSATA, USB 2.0, 8-Channel Audio, and Firewire. Almost every Core i7 motherboard is powered by the Intel X58 chipset and also makes use of the ICH10R south bridge. The MSI X58 Pro-E is no exception.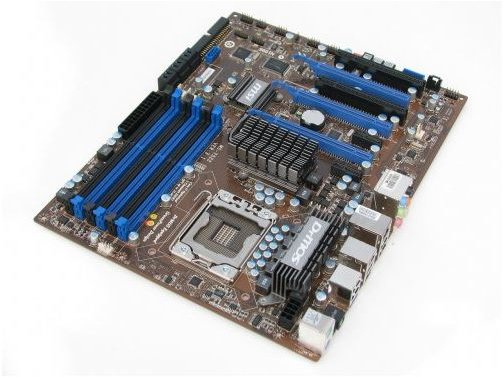 It uses the Intel High Definition Audio (Intel HD Audio). There are eight independent DMA audio engines that support multiple audio streams with audio codecs. The Realtek ALC889A codec enables high-quality audio output at the 192KHz/24-bit range. The X58 Pro-E features a single Realtek 8111C Gigabit LAN controller which uses the PCI Express bus for maximum throughput.
This motherboard is for computers that could be found in small to mid sized businesses. It can function as a server for a variety of needs, database, e-mail, domain controller, or file server.
Image Source: TechSpot
Big Bang XPower X58 Motherboard
The Big bang XPower motherboard comes with a black PCB design with a cooling system that features SuperPipe technology. The board uses Dr MOS and APS (Active Phase Switching).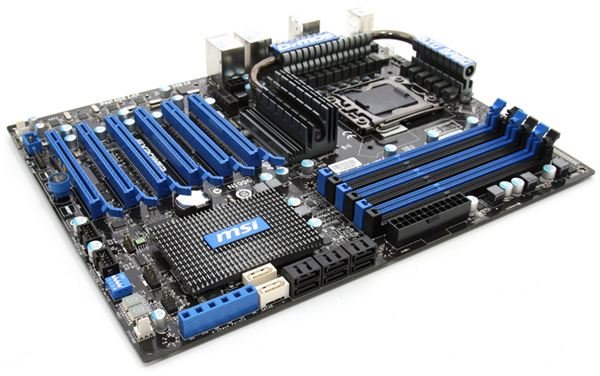 It has six memory slots rated at even DDR3-2200 (overclocked) and six PCI-Express x16 slots that allow up to 2-way SLI and 4-way CrossFireX support. You will get eight SATA II ports and also two SATA III (6 Gbit) ports and also two eSATA ports. The board comes with dual Gigabit Ethernet and features like Power, V-Check points, Reset, Clear CMOS buttons, plus a FireWire connector.
This motherboard is intended for serious gamers, or for business application servers with a high need of fast processing power.
For more on top gaming motherboards see: Top 10 Motherboards for Core i7 Gaming
Image Source: The Guru of 3D
Summary
The MSI X58 series of motherboards have many different features, but they all start in common with the Intel X58 chip. The X58 Platinum is a lower end motherboard for home or small business use. The X58 Pro-E is for more sophisticated settings like small to medium sized businesses. The Big Bang X58 XPower motherboard is for high end gamers as well as servers that can perform sophisticated business uses.
Source: MSI