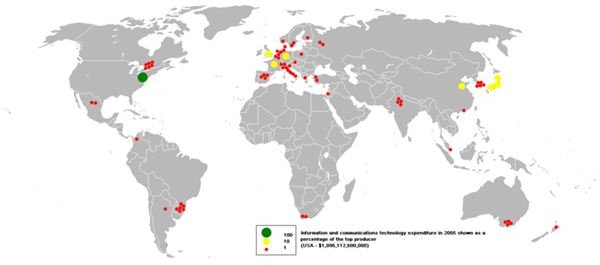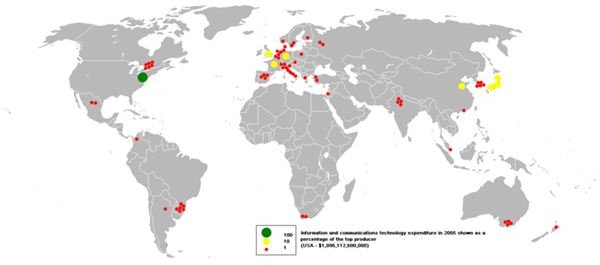 Information technology (IT) spending is the commercially quantifiable profit-making sale of computer hardware, such as laptop and also desktop computers, peripherals and of course software. What makes for interesting global shifts in IT spending (by industry) is the amount of outsourcing the various sectors undertake. That being said, there are some trends any IT professional or future tech employee intent on specialization should be aware of.
2007-2008 IT Spending Research: USA
A look at the trends of IT spending by industry in 2007 showcased a highly volatile yet ultimately predictable expenditure pattern. In 2007, Investment News(1) revealed that the financial services sector was likely to increase IT spending by an estimated 7.1 percent in 2008.
At the heart of the figures was the anticipation of an enlargement in infrastructure related to trading, communication and of course data and product security. Manufacturing came in as a close second in increases – with a projected 6.3 percent spending boost – even though the industry led the overall pack of tech spending changes with a projected 12.8 percent.
Bringing up the rear was the federal government, which was actually projected to experience a 1.2 percent spending decrease. Whereas in 2007 overall American corporations spent $462.9 billion on IT products and upgrades, 2008 was estimated to see an annual expenditure of $488.5 billion.
IT Spending Projections 2006-2012: Worldwide
Gartner(2) takes a slightly different look at the issue of IT spending by industry. Rather than solely focusing on the American market, its research spans the globe. Relying on a larger trend window, it projected a financial services spending decrease of 2.1 percent in the U.S. for 2009.
That being said, the Middle East, Latin American and also Eastern Europe are driving forces that justify an overall IT spending increase of 3.4 percent from 2007 to 2012. Manufacturing sector spending projections became victims of an uncertain global economy and the year 2009 was thought to see a 0.6 percent decrease.
IT Spending 2010: Optimistic Rumors of an Upswing
Forrester(3) talks of a "rebound" when discussing 2010 IT spending by industry. Acknowledging that on the whole the 2009 spending patterns on technology products were bleak – facts and figures bear out that overall the U.S. IT spending decreased by 8.2 percent – 2010 is considered somewhat of an equalizer with a projected 6.6 percent spending increase. Likely top sellers are software and computer peripherals as opposed to other products.
Comparing this spending to Gartner's computations, the Middle East is a bit of a wild card, since Forrester declares it to be one of the weakest markets. It is noteworthy that IT spending by industry finds the government sector to be increasing its spending. As outlined by Bright Hub's Bruce Tyson, in 2009 government "saw IT expenditures increase 4%." Forrester's somewhat cryptic promise that 2010 sees the "next phase of technology advancement" makes it an open guess where government spending in particular is headed for 2011.
Sources
https://blogs.gartner.com/jeff_roster/2009/02/11/it-spend-by-industry-worldwide/
Photo credit: "Global distribution of spending on information and communication technologies in 2005" by Anwar saadat/Wikimedia Commons (public domain) at https://en.wikipedia.org/wiki/File:2005ICT.PNG