Available Laptops In Different Colors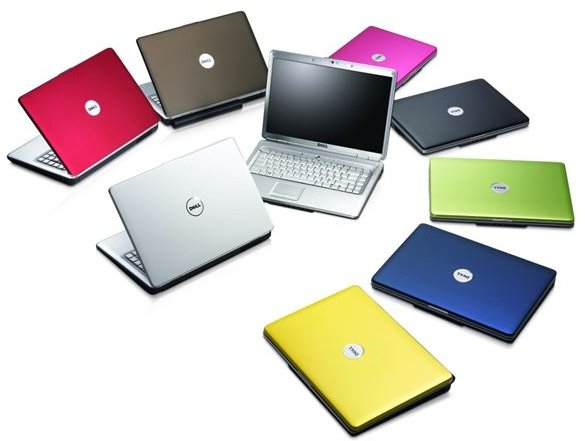 True Colors WIth Sony Style
If you prefer the stylish look of the Sony Vaio, you can conveniently browse by screen size (from an 8 inch screen to 17 inches) at sonystyle.com. There you can compare prices as well as processors, hard drive space, weight, and battery life. The Vaio laptop colors available are displayed by series, and you can see a preview image in the color and series of your choice by clicking on the small, colored boxes that appear along with the product's description.
Dell's Broad Spectrum
You can also take your pick of the many Dell laptop colors.The Dell Studio line, which features processor options up to Intel Core i7, and screen sizes ranging from 14 to 17 inches, are available in shades of red, midnight blue, spring green, pink, plum purple, or a black chainlink design.
The Inspiron line has some variations in color options. The Inspiron 14, 15, and 17 are all available in black, white, cherry red, ice blue, green, pink, and purple. The Inspiron 15 offers two additional hues in silver and a darker blue. The Inspiron Mini 10 Netbook offers a comparable choice of colors, but if you find these selections too limited and you want to go beyond a single monochrome style to a bold, eye-catching design, you're bound to find a distinctive look to match your tastes at the Dell Design Studio. There you can choose from over 200 designs, textures, and images. If you're a fan of Major League Baseball, you'll find 96 unique designs featuring team colors and logos. There are six for the New York Yankees alone, and three which cover every team in the major league.
Coloring MacBooks
Among other top brands, choices are comparatively limited; the Samsung N-150 is available in six colors, the Acer Aspire One 532h comes in silver, blue, and red, and the Lenovo Thinkpad Edge offers two shades of black and one shade of red. The choices in many HP laptops and mini notebooks are limited to two colors only.
Options in Mac laptops are also scarce, however, there are a number of ways to apply color to your Macbook, MacBook Pro, or MacBook Air. If you want an inexpensive solution, you can buy decorative vinyl MacBook skins at macstyles.com, or check out the offerings of several other providers of laptop skinware . To add color with a layer of protection, Macally Bookshells offers imitation leather protective covers in black, brown, or red. At the pricey end, you can order a custom colored MacBook, Alienware M15X, or Dell Studio 15 from ColorWare. Current owners of any of these laptops can send them in to Colorware for a professional paint job. Applying different colors at this level of customization will add roughly $600.00 to any purchase.
If what is currently available is any indication, It seems that personalization in computer products will continue to grow with time. As of now, Dell is clearly leading the way in color and design options, although it may not be long before other brands begin to offer a comparable level of variety.
Image courtesy of Dell, Inc.