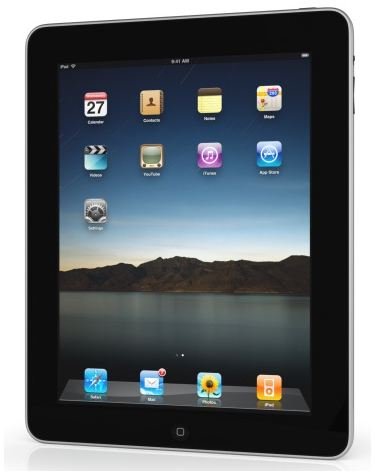 You Can't Use Your iPad Right Out of the Box
Did you know that you can't start using your iPad right out of the box? It doesn't matter how excited you are, or how charged the iPad's battery might be, you cannot open the box and start using it. You have to activate your iPad through iTunes (the desktop/computer iTunes, not the iPad iTunes) before you can do anything else.
Activating the iPad
To activate your iPad you have have start by connecting the iPad to your computer with the iPad USB/dock connection cable (or via a dock, if you have a dock). Once connected iTunes should open automatically.
If you don't have iTunes installed on your computer you'll want to download it from www.itunes.com. If you have iTunes installed, but the iPad is not showing up in the left side frame of the screen, you probably need to update the software. On a Mac you can do this through Software Update in the Apple Menu, on Windows you can use Help -> Check for Updates from within iTunes.
Once you have iTunes straightened out, you are ready to activate your iPad. This part is pretty straight forward. You will be presented with a series of prompts to activate your iPad and register it. You also have to setup the iPad for your iTunes account. This is your Apple ID (if you have one). If you don't have an Apple ID you can easily set one up using the button presented to you on the login screen.
Here's a time saving note for you. I recently helped my uncle set up his iPad. They have an Apple ID which they have used to buy from the Apple Online Store. That is how they bought the iPad. However, the Apple ID does not store their credit card information which is required to use iTunes and that ID in iTunes. As a result. when they went through the process they had to update their account and add the credit card to the account. To save time it might be a good idea to login to your account through the Apple Store site and make sure everything is set up, including storing a credit card.
Once you are finished registering (which is optional) and have your iTunes account set up you are good to go. You are ready to use your iPad…..almost.
Setting Up the iPad for a WIFI Connection
Before doing anything else I would set up your Internet connection. This might be a WIFI network or through 3G, or both. Both of these are accomplished through the "Settings" app on your iPad.
If the WIFI network you are using is protected you want to make sure you have the password.
On the left hand column of the Settings panel you will see "Wi-Fi." Tap that and you will be presented with a list of networks. Tap the one you want. If you need a password you will be prompted for that. Once the password is entered (or not) you will be connected to the internet.
Airplane Mode on the iPad
If you are using a 3G iPad in WIFI mode most of the time, like I do, you might want to turn the iPad to "Airplane Mode." This turns off 3G funcitonality thus prolonging battery life. Airplane Mode can be toggled from the top of the "Settings" list by tapping the on/off switch.
Setting Up a 3G Connection on the iPad
If you are on a 3G iPad and want to turn 3G on you can start by making sure "Airplane Mode" is off. Next tap "Cellular Data." Here you will have to enter payment information and choose your data plan. Once that is set up you are good to go.
You don't have to use WIFI or 3G exclusively. The iPad can be set up for both and when it is in a known wireless network's range it will use WIFI. If it is out of range 3G will kick in.
Troubleshooting the Internet Connection on the iPad
If you are having connection issues try turning the iPad completely off and reboot it. This is done by holding the power button on the top of the iPad until the unit shuts down. After it has shut down, tap that button again and turn the iPad back on. My uncle had initial connection issues and this solved it for him.
If rebooting the iPad doesn't work double check the password for the network you are on. You also might want to make sure the network doesn't have other protection options in place like MAC address filtering.
What Now?
Now that you are connected to the internet you can download apps, set up email, and more on your iPad. You can also go back to iTunes on your computer and set up how syncing Movies, Music, Photos, etc will work.
At this point it probably wouldn't be a bad idea to fully charge the iPad. You can do this connected to the computer, or use the charger and cable that came with the iPad. If you don't have a dock or second cable, it might not be a bad idea to pick one up. This way you can keep one on the computer for syncing and one on the charger for charging.
For tips on arranging apps on your iPad check out my article here.
For other iPad setup tips stay tuned to Bright Hub! Those articles are for another time.