Learn How to Clone a USB Flash Drive: 3 Methods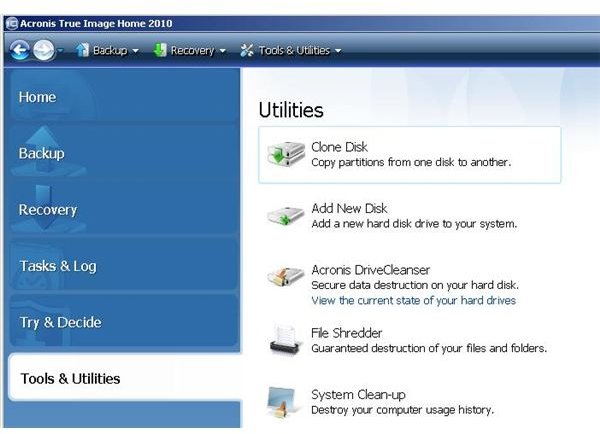 Using Straight Copy to Clone a USB Flash Drive
If you have more than one USB port, insert your old and your new USB flash drive. If you don't have two available USB ports, you should get a USB hub to expand your capacity. You can clone a USB flash drive by doing a straight copy from your old drive to the new one. You can do this by opening Windows Explorer and then selecting all the contents of your old drive and copying them to your new drive. This should work well unless you have files that are hidden or protected by special security features.
Using Xcopy to Clone a USB Flash Drive
If you have DOS or a Command Prompt window you can use Xcopy to move your files and clone a USB flash drive. To do this, you will need to know the drive letters of both of your USB flash drives. In this example, if your old USB drive is drive "H" and your new drive is drive "G", you would type the following in the command prompt window: xcopy H:\*.* G: /e /h /k and then press .
Using Acronis True Image, and Disk Utilities to Clone a USB Flash Drive
Acronis True Image and Disk Utilities can be used to clone a USB flash drive. By choosing to use the "clone disk" option, the software will copy everything exactly as it is on the original to the new drive. This is particularly useful if you have a bootable USB drive and you need your replacement drive to be bootable as well. To clone a USB flash drive, you will have to visit the Acronis Web site and download the True Image program. You can either purchase the program or use it in the trial mode.
Once the installation of True Image is complete, start the program and choose "Clone Disk" from the "Tools" menu.
When you enter the "Clone Disk" menu, choose either "Automatic" or "Manual." In most cases, "Automatic" will do the job you need, but feel free to try out some of the additional options found under "Manual." Most of the time the options for manual cloning are not necessary for USB drive cloning

Click on "Source Disk" in the left column and see the drives you can clone on the right. You will see that you can clone a USB flash drive in this application (unlike most clone software such as Norton Ghost). Select your old USB flash drive as the source, click the "Next" button, and then select your new USB drive as the destination. When you click the "Next" button, you will be able to review your choices before clicking "Proceed." Be sure your source and destination are selected properly because this operation cannot be undone.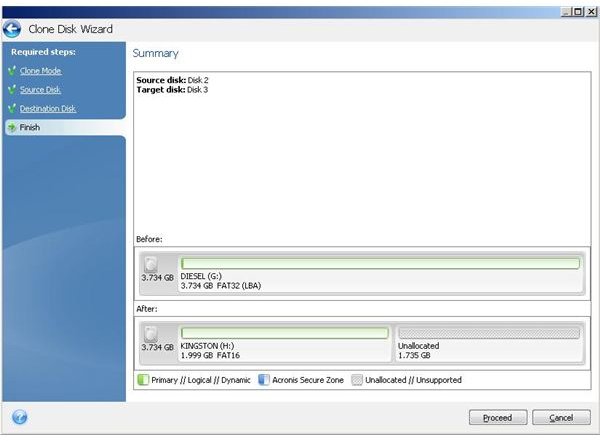 You may be prompted to reboot your computer once you click "Proceed." The cloning process completes in a full screen command prompt window before the Windows GUI restarts. You now have a clone of your old USB flash drive on your new drive.
References