Stop iPhoto from Openning when your iPad Connects to a Mac

Use Image Capture To Control iPhoto
If you are like me you have a couple of the free wallpaper apps on your iPad for finding really cool wallpapers for behind your apps or your home screen. When you find a picture in one of these apps it is saved to the Photos app and every time you connect the iPad to the computer iPhoto opens up wanting to import new additions to the Photos app. Or maybe you are saving images to Photos from an email so you can use it later. No matter how you get the pictures into the app, the same thing happens when you connect to the computer. I don't know about you, but that drives me crazy. Unless I am putting photos into my iPad from my camera using the camera connector, I don't want to have iPhoto open when I connect my iPad.
If you look in iPhoto or iTunes there is no setting to control this. However, hidden within the rarely used Image Capture program is the setting you are looking for. To find Image Capture look in your Applications folder on your hard drive. You have to have your iPad connected to the computer for this to work. (By the way, this also works with the iPod Touch and the iPhone, or any camera device you might connect to your computer.)
When you open Image Capture you will see any image capable device connected to your computer under devices. In the image below you see my scanner and iPod Touch.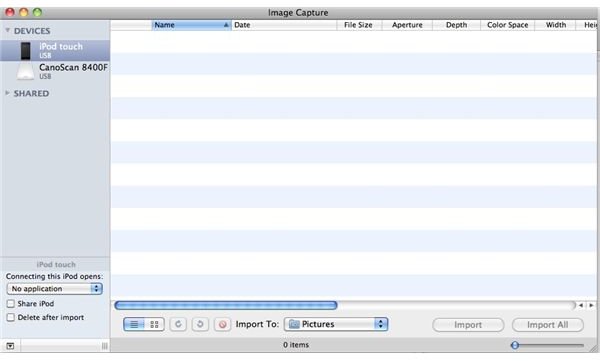 Under that list is a frame where you control what happens when you connect the devices to the computer. Click your iPad and you will see your options. By default the setting is to open iPhoto. If you click the menu where iPhoto is listed you will see other software options and an option to open "No Application." Choose no application and only iTunes will open when you connect your iPad. iPhoto will now stop opening when you connect the iPad.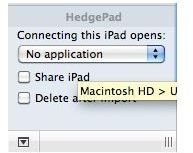 If you don't see the options window click the small arrow in the far lower left corner of the window. It is probably pointing up. Clicking it will change it to pointing down and also open the options window.

These settings can be changed at any time to open iPhoto when you connect your device.
However, you don't have to have iPhoto open automatically to get photos off of it. If you have images in your photo library on your iPad you can easily import them into iPhoto by opening iPhoto yourself after connecting the iPad to your computer. The iPad will show up with the images ready to import just like it would have if iPhoto had opened automatically.
Controlling what applications open when you connect a device to your computer is not the only thing Image Capture is good for. It is a very powerful and underused program. Stay tuned for more articles on Image Capture in the future.