A Guide to the Best Pillow Top Laptop Stands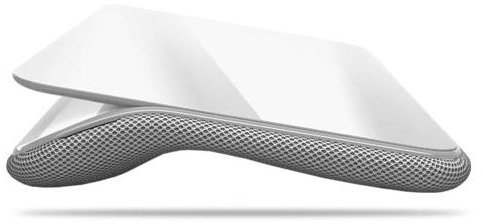 The Best Pillow Top Laptop Stands
Laptop stands are an excellent way to increase your productivity when using a laptop. They keep your laptop at a more comfortable position and prevent it from becoming too warm on your legs. However, most laptop stands are very rigid. They are literally desks for a laptop.
What if you want something with more cushioning? If that is the case, you'll need to buy a pillow top laptop stand. These laptop stands are partially made out of rigid materials, but they also include a cushioned layer which makes them more comfortable to use. The four pillow top laptop stands found below are good choices if you need a comfortable but functional laptop stand.
Logitech Comfort Lapdesk
The Logitech Comfort Lapdesk is one of the most functional pillow top laptop stands which you can purchase. It is made out of a soft air-mesh fabric. This makes sure that it feels comfortable at first touch but also remains comfortable after spending a long time on your lap. The Logitech Comfort Lapdesk also features an ergonomically ideal twelve degree angled riser and a heat-shield design which ensures that your laptop stays cool.
The Logitech Comfort Lapdesk isn't the least expensive lapdesk available, but it isn't the most expensive either. It can be found for $34.99 at most retailers, which is a reasonable price considering how enjoyable this light weight cushioned laptop stand is to use.
iLap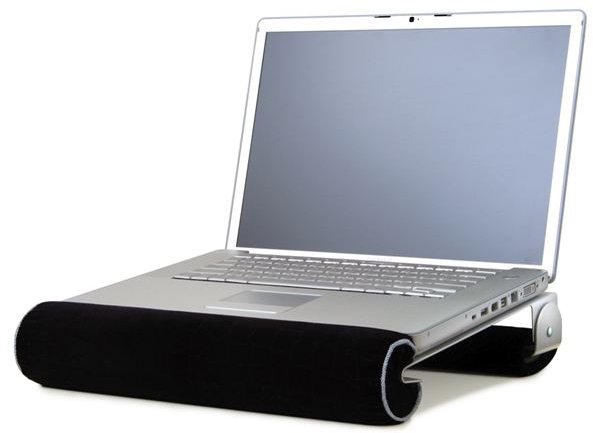 Designed with Apple's products in mind, the iLap is a cushioned laptop stand which is can be ordered in a variety of sizes depending on what size Macbook you happen to own. While titled the iLap, this laptop stand actually also can serve as a stand for desktop work as well. The velvet cushion which covers the front of the iLap's rigid chassis can be removed. When used on your lap, however, the pillow acts as a wrist-rest for your laptop stand.
Since this is meant for use with an Apple product, you'll have to spend Apple money. The iLap is available in sizes between 12 and 17 inches, with prices starting at $49.90 for the 12 inch and 13.3 inch models and rising to $69.90 for the 17 inch model.
Belkin CushTop Notebook Stand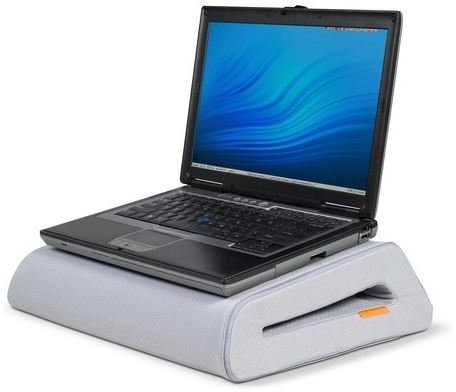 The simple Belkin Cushtop is one of the most comfortable pillow top laptop stands currently available. Unlike most laptop stands, there are absolutely no rigid surfaces on the outside of the laptop stand. It is cushioned both on the top and on the bottom. Despite this, the CushTop is made of breathable materials which will ensure that your laptop won't overheat, something which is often a problem when placing a laptop on a cushion.
Better yet, the Belkin Cushtop is very affordable. It can be found for under $20 at most retailers, making it the most affordable pillow top laptop stand available today. The CushTop comes in 15 inch and 17 inch variants, but the two seem usually be sold for the same price.
Levenger Lapreader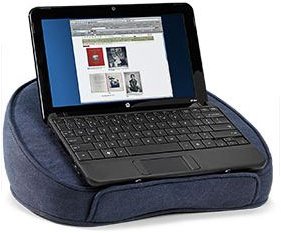 While Levenger specializes in "Tools for Serious Readers" the Levenger Lapreader can serve either as a stand for a hardback book or as a pillow top laptop desk. The lapdesk is made of foam and cotton, making it very comfortable to use. The Lapreader also includes three pockets which will allow you to hold accessories such as USB cords or a small wireless mouse.
The only downside to the Levenger Lapreader is that it doesn't breath very well, but the Levenger is also small (recommend for laptops of 12 inches or smaller) so any laptop used with it probably won't be getting too hot anyway. The Levenger Lapreader can be found for $39.99 at the Levenger website.