What is the Biggest USB Dive? The 256GB USB Flash Drive. Learn Who Really Makes Them - Because All the Rest are Fakes
So, what is the biggest USB flash drive? 256GB!
Kingston's New 256GB Data traveler 300 USB flash drive- the UK model
This drive, announced in the summer of 2009, just a month after Kingston added a 128GB drive to its product line, is currently only available in Great Britain-
for a hefty $900 USD.
Up to 90% of the contents can be password protected. It has transfer speeds of up to 20 MB/sec read and 10 MB/sec write.
It is 2.78" x 0.88" x 0.65" in size, and can be used at temperatures of -32° to 140° F (0° to 60° C). It can be stored at temperatures of -4° to 185° F (-20° to 85° C).
The durable, capless design comes with a five-year warranty and is capable of Windows ReadyBoost™ on Vista-based systems It is compatible with Windows Vista, XP (SP1, SP2, SP3), Windows 2000 (SP4), Mac OS (10.3.x and above) and Linux (2.6 and above),
Available only in the UK, it was listed at £532.28, and both the stores checked were out of stock. This could be due to the note on one of Kingston's websites that they were only going to be built to order. There was no information on how long it takes to get a drive built
Now the 256GB drives are stocked in a few places, but they are still VERY pricey.
Kingston announced the Data Traveler 310: available in the US
Kingston has finally brought a 256GB USB flash drive to the US Market. They have remodeled and improved on the original DT 300 256GB USB flash drive, but the price is still very steep. The MSRP is $1100. This is one for the bigger is better folk. Newegg is carrying it for about $900.
It is, however, even nicer than the DT 300.The data transfer rates are up to 25MB/sec read and 12MB/sec write speed, a definite jump from the 2009 release. The increase in speed is impressive for such a large drive.
It is plug and play for: Windows ME/2K/XP/Vista, Mac OS 9.x, OS X and Linux.
Specs are:
OS Windows® 7 , Windows Vista® (SP1, SP2), Windows XP (SP1, SP2, SP3), Windows 2000 (SP4), all with the features of File

Transfer and Password Traveler.
Other OS do not feature the Password Traveler.
Mac OS X v.10.3.x+ File Transfer only
Linux v 2.6.x+ File Transfer only
The drive has a 5 year parts and labor warranty. It also has been given a cap- perhaps due to the many comments on the $1000 + price not even including a cap.
The dimensions are also slightly different: 2.90" x 0.87" x 0.63"
Super Talent Introduces Encrypted USB 3.0 SuperCrypt™ Drive
Super Talent's USB 3.0 drive ranges in size from 16GB to 256 GB. Backwards compatible with USB 2.0,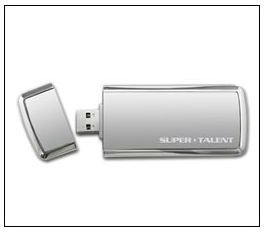 the drive has an amazing read speed of 240MB/sec with USB 3.0. They say it takes only 7 seconds to download a 600MB movie to your computer with the drive, if your OS can support the USB 3.0 standard - which not all can.
At the time of their press announcement, the drive was not yet available, but is now.
The new technology is patented, and a driver for the USB 3.0 USB drive can be downloaded, allowing many computers to utilize the USB 3.0 standard feature.
The drive can be ordered from Super Biiz for $840, with free shipping.
There does not seem to be any distinguishing identification for what the capacity of the USB drive is, at least from all the pictures I have seen so far, but I assume Super Talent has marked the drives in some manner.
At the time this article was written (May 1, 2010), I did not find any faked Super Talent 256GB drives, but unfortunately, that can change.
My knock around laptop, where I am typing this, has only 160GB of hard drive space. This drive could swallow it and not blink - and may be faster, too.
A really cool toy - and very useful, if you can afford it.
Be wary!
These are currently the only 256GB USB flash drives available, so if you see great deals and prices purportedly from other companies- they are FAKE! This article will be updated with information when other companies release a 256 GB USB flash drive, and until then, If the price is too good to be true- do not buy it!