Dell vs. Gateway: Which Should You Buy?

Dell vs. Gateway - Lineup
Dell has four major product lines that makeup their consumer desktop computers, if you include Alienware. Inspiron models are the lowest priced; the budget PCs of the Dell Desktops, starting at $249.00. One step up from Inspiron, Studio desktops are Dell's mid-range performance desktop PCs, starting at $399.00. Finally, Dell has an XPS lineup, which they market as premium entertainment desktops, starting at $649.00. Alienware is a division of Dell dedicated to gaming. Alienware starts at $999.00 for desktops.
Gateway brands their desktops a bit differently. The current desktop computer lines that makeup Gateway are: SX Series, DX Series, LX Series, FX Series, and ZX Series. The SX Series, Gateway's lowest priced desktop lineup, starts at $499.99. Next, we have the DX Series, which starts at $519.99. Another step up gets you into the LX Series desktops, which start at $799.99. Gateway's most high performance desktops, the FX lineup, start at a cool $1,299.99. The ZX series desktop is simply Gateway's all-in-one PC.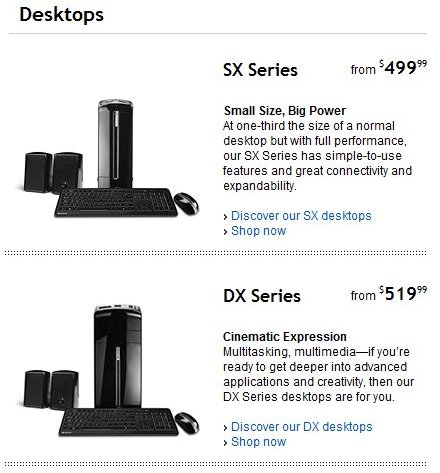 Dell vs. Gateway - Things to Consider
The fact is, Dell and Gateway both make good desktops. They also make lemons. Before purchasing any desktop, it's recommended that you read as many consumer reviews as you can, from other people who have purchased that desktop. If a certain model has 5000 positive reviews, it's probably going to be a good choice.
Dell sells their computers direct. When you visit the Dell website and buy a computer, you are getting the computer straight from Dell. However, you can go to your local Best Buy and find Dell computers there as well.
Gateway no longer sells their computers direct. When you visit the Gateway website, and find a computer that you would like to purchase, you will be redirected to an authorized retailer. In most cases, this will be the Best Buy website, Tiger Direct, or Newegg. Gateway does not ship you your computer. Best Buy does.
Opinion:
In the above example, featuring the SX2840 vs. the Inspiron 580, I would go with the Gateway. It is $10 more expensive, but the slightly better hardware cleanly justifies this for me. Customer support for both companies has long been reviewed as average at best (this is how it is with other PC manufacturers as well). Plus, you only get a one year standard warranty with the PC. The chances of something major going wrong within a year's time or purchase are very slim.
Upon comparing two other computers, the complete opposite is possible. There may be a Dell PC with better specs for only $10 more. Under this circumstance, I would go with the Dell. The best advice, if you are looking to buy a PC from Dell or Gateway:
Set your price range.
Get a computer with a decent processor. RAM and hard drives can be easily upgraded.
Read customer reviews.
Find the computer that you want, for the lowest price that you can get it.