The Best H55 Motherboards: Motherboards for Budget Core i3 and i5 Systems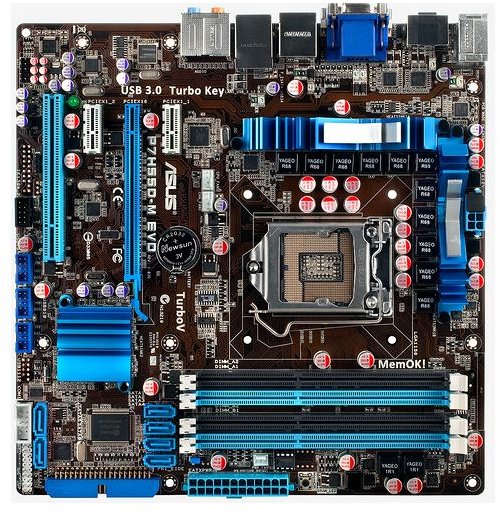 H55 Brings Core i 3 and i5 to the Masses
As usual, Intel has been relying on a trickle-down approach with its new Core i3/i5/i7 products. Intel has traditionally waited to release low-end, high-volume parts last, when it is confident that all the bugs have been worked out. The new Core i3 and Core i5 products are no exception, and they come with a new chipset, the H55. This guide covers the best H55 motherboards, all of which are a good solution for those looking to build a new low-cost Intel machine.
ASUS P7H55D-M Evo
If you're looking for a motherboard, you've probably come across the ASUS name numerous times. They are basically tied with Gigabyte when it comes to reputation among enthusiasts. It is easy to recommend any ASUS motherboard, because chances are that it will be of quality.
The P7H55D-M Evo is worth a specific recommendation, however, because it is the the best overall H55 motherboard available. It comes with value and features in one easy to love package. A look at the features shows that it has all the fixins. It supports 16GB of RAM, offers USB 3.0, Firewire, and eSATA, and has excellent Realtek on-board audio. The Evo also has the full set of features you'd expect from ASUS, including a comprehensive BIOs and an impressive suite of software utilities.
While this M Evo is a micro-ATX board (that's what the M stands for) it is a premium product with all the features you'd expect. It is priced accordingly,with most retailers selling it for around $125. That's not cheap, but you get what you pay for.
ASRock H55M Pro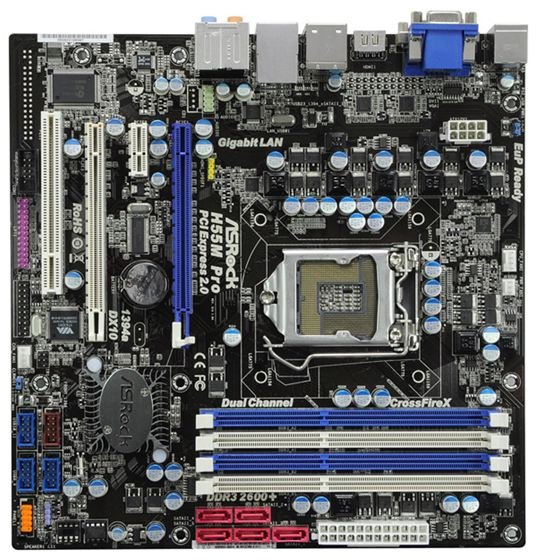 As nice as the ASUS M Evo is, its price makes it of questionable use for budget systems. If you're just building a basic computer you don't really need a gob of features. You just need a solid board that gets the job done.
That is where the ASRock H55M Pro comes in. The H55M Pro lacks eSATA, doesn't have USB 3.0 support, and doesn't have as complete a software suite as the M Evo. However, the H55M Pro still has support for up to 16GB of RAM and Realtek on-board audio, plus all the other ports, etc. which are expected of modern motherboards. It is also a micro-ATX board.
Then there is the price. At around $85 bucks the ASRock H55M Pro is hard to ignore. As good as the Evo M is, it feels odd to spend as much on the motherboard as on the processor when building a budget system. For those who are less concerned with performance and more concerned with building a reliable and functional system, the H55M Pro is the way to go.
MSI H55-GD65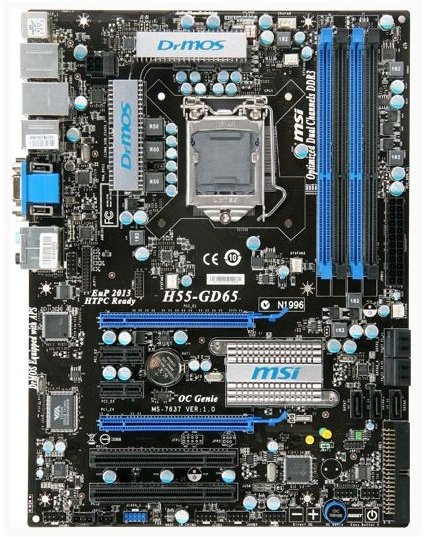 The M Evo and the H55M Pro have something in common - they're both micro-ATX board. Most H55/H57 boards are, in fact, micro-ATX boards. That's great for most users, but some still use PCI cards for various additions including audio board sound, RAID controllers, and Wifi adapters.
Unfortunately most ATX H55 and H57 boards have ridiculous pricing, with some running well over $200. I think that is just too much for a motherboard aimed at supporting processors that may cost only a hair over $100. The MSI H55-GD65, however, is reasonably priced, with most retailers selling it for around $135 or less.
That's only 5 bucks more than the typical price of the M Evo - and it isn't as if MSI has skimped on features. The H55-GD65 has two PCI Express 2.0 x16 slots as well as two PCI Express 1x slots and two normal PCI slots. It also has Firewire support and Realtek on-board audio, with MSI's typical software suite, which is nearly as good as the one ASUS puts out. It supports USB 2.0 and up to 16GB of RAM, and If you're looking for an ATX board for your Core i3/i5 processor the H55-GD65 is the way to go.