Dell Vs. Acer: Acer Beats Up Dell and Takes Its Lunch Money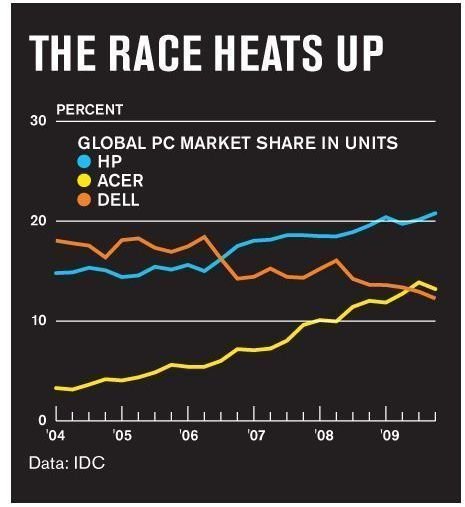 Dell
Since slipping into the number three position in the market, Dell's revenue continues to increase as its profits plummet. Higher component costs and shrinking sales into the corporate market have compromised the company's ability to compete. The lone bright spot in Dell's recent earnings report is the profitability of its services segment. Dell plans to capitalize on this part of their business as well as on international sales to restore it profitability and market share.
Unlike Acer's reluctance to take initiative with new products, Dell is not afraid to launch new initiatives. For example, Dell has brought its Mini 3 smartphone product into markets in China and Brazil. With a higher margin on this product and with a partnership with China Mobile, China's largest cellular provider, Dell believes it can boost its share of the market without hurting shareholders.
In a market that is largely untapped, Dell's sales in India amount to only 2% of its entire revenue. New government IT initiatives and new spending on healthcare in India promise to provide a climate where Dell can experience dramatic increases in sales. Dell is hoping that this opportunity will help it vault back into second place.
Regardless of how its foreign markets fare, Dell is adamant, that it will not allow its efforts to regain its share of the global market to be fueled by lower prices and an even further eroded profitability.
Acer
Acer markets four brands of computers to consumers: the price conscious eMachines, Gateway (US) and Packard Bell (Europe) for mid-range computers, and top-of-the-line Acer. This multi-brand approach has helped them get more exposure in retail stores, resulting in phenomenal sales figures.
Since Acer's failed 2002 tablet PC product launch, Acer's strategy has been to focus on established products and technology, allowing competitors to take the risks on new concepts. For example, Acer sat by quietly as Asustek launched the world's first netbook products. Only after it became clear that the netbook was taking hold among consumers did Asus launch its own netbook products. Since then, Acer has become the world's number one netbook manufacturer. Using a similar approach, Acer anticipates overcoming HP in the laptop market this year and ascending to the world's number one spot within three years. Investors fear that Acer may reduce prices too much in its pursuit of HP, a move that would sacrifice profitability.
In addition to its focus on mobile computing to build market share, Acer intends to make inroads into the corporate world to propel it to market dominance. With new IT spending trends on the rise, Acer has a lot of potential if it manages to overcome its newcomer status and consumer-oriented reputation. Acer's challenge is to convince corporations that it is capable of producing and supporting quality computers for the global enterprise. To date, Acer hasn't gained much ground in the corporate world, but hopes that increase IT expenditures in the current year will provide impetus to its new initiatives.