Apple's Magic Mouse on Windows 7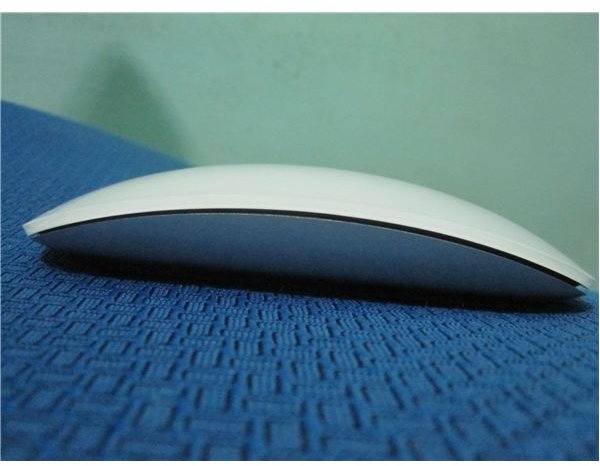 About the Magic Mouse
Apple designed the Magic Mouse to use the same multi-touch technology used on the iPhone and iPod Touch on the Macintosh platform. The multi touch, seamless surface of the Magic Mouse tells you right away that it's something special. You drag your finger horizontally
to swipe and you drag your finger vertically to scroll. Momentum scrolling, a feature popular on the other Apple touch devices, changes the speed of the scroll depending on how fast you move your finger. The internal electronics of the device recognize the difference between a two finger swipe and other movements, preventing it from misreading your movements, even if they are not perfectly straight. You can zoom without having to lift your hand. Any part of the surface can be tapped to click or double click. Even better, the Magic Mouse feels really good in your hand. Underneath, a laser tracks the movements of the mouse with precision. The Magic Mouse connects to the Mac using a Bluetooth connection, so it's wireless without requiring a clunky USB receiver. Its automated circuitry shuts it down while inactive, maximizing battery life.
Compatibility
Apple officially does not support the use of the Magic Mouse on Windows computers. On the other hand, you may have a Bluetooth enabled laptop or desktop running Windows 7, so you know you can connect the mouse. Besides, in order for it to work on Windows 7 via Apple's Windows Compatibility framework (Boot Camp), Apple had to create a Windows compatible driver.Thanks to some computer geeks who tasked themselves with unearthing the mystery of how to use Magic Mouse on Windows 7, the driver files you need are available for download here at a third party Web site. In addition to downloading one of those files, you will have to purchase a Magic Mouse separately.
Installation
After you download either the 32 bit or 64 bit version of the Magic Mouse driver, double click the file to run the installation. All you have to do is follow the on-screen instructions. Keep in mind that you need a Bluetooth-equipped Windows computer with the Bluetooth enabled and an Apple Magic Mouse for this to work.
If you're one of those people who has to be different, you will enjoy being one of the few people with a Magic Mouse that works on their PC. However, you need to keep in mind that this is not an official Apple implementation, so if you have trouble getting the Magic Mouse to work properly, you will be on your own. This article is written for information purposes only and is not intended to encourage or support the deployment of Apple's Magic Mouse in an unsupported environment.