Toshiba Netbook Reviews: Toshiba NB305 Review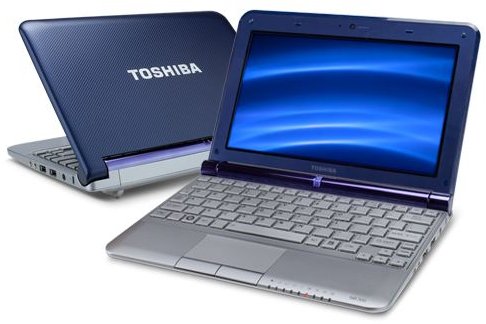 Toshiba NB305 Key Features
The Toshiba NB305 can best be described as a super-light stylish and practical netbook that you can carry practically anywhere. It offers comfort-driven design, exceptional battery life and of course the best web browsing experience.
Featuring a full-size keyboard and touchpad that give you a comfortable typing experience, the Toshiba NB 305 boasts of a diagonal 10.1-inch screen with resolution that won't strain your eyes even on prolonged use. It also has a durable textured finish.
Of course, in an already saturated netbook market, one of the most essential features that consumers always ask when buying a netbook is how long its battery will lasts. The Toshiba NB305 is at par with industry standard with its 11 hours of battery life. Just about enough time to give you a full day's work without needing to charge the battery.
Under the hood of the Toshiba NB305 is the latest Intel Atom Pine Trail processor which provides improved performance as well as enhanced video capabilities to this netbook. Downloading and streaming web video content is also a breeze with its faster and more robust CPU.
Design-wise, the Toshiba NB305 features a durable textured finish in three classy and sophisticated colors - Frost White, Java Brown and Royal Blue.
The Toshiba NB305 is also loaded with the Toshiba Media Controller - an application for sharing videos, music and pictures from your PC's media library to your home entertainment network minus the hassle of hooking up your netbook to your entertainment center through cables. The Toshiba Media Controller takes full advantage of its Wi-Fi connectivity features and Windows 7.
Why You Should Buy the Toshiba NB305?
While Toshiba may not be the leader in the netbook market (Asus and Acer are the current leaders), the company actually managed to play catch up with the netbook pioneers. Some of the earlier Toshiba netbooks were proven to be the netbook industry's most reliable, durable and high-performing netbooks. So, it will not be surprising if Toshiba can pull one through with its latest offering - the Toshiba NB305.
There are three reasons why you should buy the Toshiba NB305 over the other Pine Trail-equipped netbooks available today - form factor, battery life and the Media Controller app.
As said, the Toshiba NB305 sports a durable textured finish. It's the same design as with earlier Toshiba netbooks, so you can pretty much be assured that the netbook could stand rigorous environment and extensive mobility without damaging itself as well as your data files.
Of course, the 11 hours battery life is a very desirable feature and the Media Controller app a bonus if you want to use your netbook as an entertainment hub.
Technical Specs:
Intel Atom Processor N450
Windows 7 Starter (32 bit)
1GB of RAM
Intel Graphic Media Accelerator
250GB HDD
Wi-Fi 802.11 b/g/n
Integrated webcam
Memory Card Reader
10.1-inch Widescreen WSVGA TruBrite Backlit LED Display
3 USB Ports