How to Install a Linksys Wireless-B Broadband Router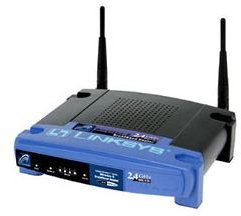 I Have a Broadband Internet Connection. Now What?
DSL or Cable Internet connections offer fast connections that can be shared among multiple computers. With a wireless router, users can set up a network using either wireless or wired connectivity (or both), although many users find that wireless connections are most convenient. A Linksys wireless router forms the backbone of a local area network that lets users work with wireless laptop computers, media players, and smartphones form anywhere within the router's effective range. The freedom that comes with a wireless network allows home workers to spend time with family regardless of what room they are in. To get a network up and running, the knowledge of how to install a Linksys wireless-b broadband router is required in order to benefit from a fast Internet connection.
What is Wireless-B?
Wireless-B is a common specification for the operation of wireless networks. This type of network operates in the 2.4 Ghz band and provides data speeds of up to 11 Mbps. While the speed of Wireless-B is slower than what you would get from a wired network, the convenience of mobility within the router's range makes it a very desirable solution.
Getting Started
Before getting started, users should have all the information about the local broadband connection available for reference. This is the "need to know" information that technicians usually leave behind with new customers.
The first step is to connect the broadband modem to the router. To do this, make sure that the modem, router and the computer are all turned off. At your computer, disconnect the cable that goes from it to your broadband modem and plug it into the "Internet" connection on the back of the router. Then connect a network cable from one of the the router sockets to the computer.
Next, power on the modem and the router. Be careful not to plug the power connector from the modem's power adapter into the router and vice versa. Doing so may damage your equipment. The power LED on your router should stay on constantly once its self test is complete. Also, you should see that the Internet LED is lit.
Once the modem and the router are both on, turn on the computer that the router is connected to. Make sure that your computer is configured to obtain IP addresses automatically. This will allow it to accept a network address assigned to it by the router.
Open Internet Explorer and type "https://192.168.1.1" in the address bar and press enter. This is the default IP address of your router. Some models may have a different IP address, so be sure to check your documentation if the router's login page doesn't appear in the browser window.
The Linksys Web-Based Setup Utility
To log in to the Linksys Wireless-B router, leave the user name blank and enter "admin" as the default password (you can change these values later).
The first screen will prompt you to enter your broadband provider's host name and domain name. Often this is required for cable modems, but not for DSL. If you don't have this information, contact your broadband provider. If this information is not required, leave it blank.
When asked for the Internet connection type, most of the time, you'll chose the "Obtain an IP Address Automatically" option. If you have a static IP address from your broadband provider, you'll have to enter it as well as your subnet mask, default gateway address, and DNS address. Save your settings when this page is completed.
Configure Your Network
On the "Basic Wireless Settings" screen, enter the name you want for your network. This name has to be used on all computers that connect to this router's wireless connection. The default name is "linksys," but you'll probably want to change this to something else.
Your wireless channel also needs to be set. Be sure to remember what value you choose because you'll need it when configuring your wireless devices. Normally you'll leave the "Wireless SSID Broadcast" setting on "Enable." Save your router settings, cycle the power on your broadband modem, and restart your computer.
Verify Proper Operation
After the computer restarts, users should make sure that Internet access is working from a wired connection before attempting to access the Internet from a wireless device. A good test site to visit is the Linksys registration web site (www.linksys.com/registration). Once proper operation has been verified, the installation process is complete.
In the event of a problem, router settings should be reviewed for accuracy and the manufacturer's troubleshooting process should be completred before calling technical support.