The Best Motherboard for HTPC: Picking the Motherboard for an HTPC Build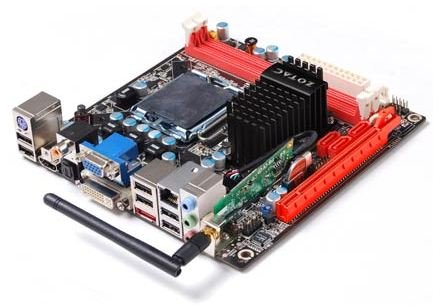 Best LGA775 HTPC Motherboard: Zotac GF9300-D-E
Building the smallest HTPC possible is the dream of many, but it can be difficult. Finding a good small motherboard with all the features needed can be difficult. There is one ray of hope, however - the Zotac GF9300-D-E motherboard.
Built for LGA775 processors, the Zotac GF9300-D-E is a mini-ITX powerhouse. Although only about 7 inches by 7 inches in size, this tiny motherboard has a Geforce 9300 GPU with HDMI,integrated WiFi, six USB ports, and 1 eSATA port. It is, in other words, just as feature-packed as a typical full-sized ATX motherboard. Granted, there is only one 16x PCI Express slot and parts will generally be more cramped than a full-size ATX board, but those are small sacrifices, and ones which will be required when using any motherboard this small.
The only real downside is the price, which tends to be around $140 dollars. That's expensive for any small motherboard. Still, the Zotac GF9300-D-E is entirely worth the cash. No other motherboard has this many features packed into such a small motherboard.
Best AM3 HTPC Motherboard: Foxconn A7DA-S 3.0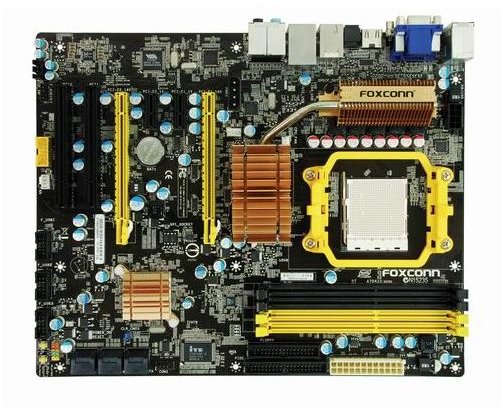 AMD's processors are not as fast as Intel's at the high end, but AMD is still a good option for HTPCs. Their low-cost quad cores are particularly good options because they are inexpensive and yet extremely quick at video de/encode operations.
AMD's processors are bolstered by chipsets with great integrated graphics, and the Foxconn A7DA-S 3.0 is one example. The Foxconn A7DA-S 3.0 is based off the 790GX chipset, which means that it has a Radeon HD3300 GPU. The HD3300 includes everything one needs for an HTPC, including support for MpEG-2, VC-1, and H.264 playback, as well as compliance with HDCP. This means there is never any need to buy a video card for use with the Foxconn A7DA-S 3.0 motherboard.
The Foxconn A7DA-S 3.0 is similar to many other 790GX based motherboards. It has two PCI Express 16x slots, numerous USB ports, and many other features. The reason for its recommendation comes down to value. The Foxconn A7DA-S 3.0 is available for around $90. That's a steal.
The only possible problem is that this motherboard is that it is a full ATX board. It therefore won't be a good choice for those who want to build a small HTPC. That is a large trade-off, but it can be worthwhile, as the Foxconn A7DA-S 3.0 manages to at once provide the most features and the lowest price of any motherboard recommended here.
Best LGA1156 Motherboard: Gigabyte GA-H55M-S2H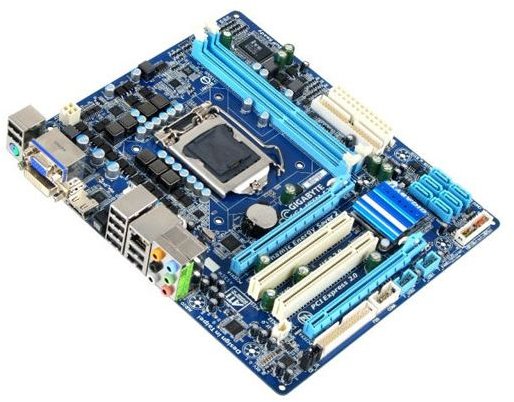 Intel's new Core i3 processors are not a bad pick for an HTPC. They are fast, but don't use a lot of power. The Core i3 processors also include an on-die GPU which is HDCP compliant and powerful enough to play Blu-Ray and other HD formats smoothly.
These new Core i3 processors can be used with a new chipset, called the H55. The H55 chipset does not include any kind of integrated graphics because the Core i3 already has a GPU on-die. The result is a chipset which for most users will be functionally similar to a P55 motherboard but will be less expensive. Also, because more hardware is integrated into the CPU, room is freed up on the motherboard.
The Gigabyte GA-H55M-S2H is an example of the advantages of this approach. It is a very robust micro-ATX motherboard loaded with features including two PCI slots, two PCI Express slots, Realtek integrated audio, 4 USB ports, and support for up to 6 SATA hard drives. The plethora of of PCI slots is of particular interest since it provides space for TV tuner and sound cards despite the motherboard's small size.
Given the features, it would be reasonable to expect the Gigabyte GA-H55M-S2H to be a little pricey. It isn't. In fact, the GA-H55M-S2H only costs about $90 dollars, the same as the Foxconn board. This is a good deal, particularly for a board from Gigabyte, which is generally regarded as one of the best motherboard manufacturers today.