How To Access Linksys Router Settings
Setup Your Router
The first step to config a Linksys router is the physical setup. For this part, you should follow the directions that came with your specific model Linksys router. This will help you to avoid any potential setup issues. In general, setting up any type of wireless router requires: plugging the cable modem and wireless router into a power outlet, connecting the coaxial cable jack into the back of the cable modem, and connecting the cable modem to the router via ethernet cable.
Upon connecting the above components, you will also need to install the drivers for the router. Linksys routers come with a DVD disc that should be used to install the drivers. However, if for some reason you do not have the disc, you can download the drivers for your router from this page.
After you have installed the drivers, you should be able to access the internet wirelessly with your Linksys router.
Logging In To Your Router Settings Page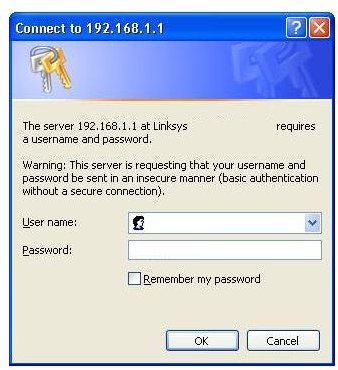 Now that your wireless internet is working, it's time to learn how to config a Linksys router and how to access the Linksys router settings. To get started, open up your web browser. This should work for all web browsers, so you can use Firefox, Safari, Chrome, Internet Explorer, etc…
Type the following into the URL address bar of your browser and hit enter: https://192.168.1.1/
The next screen will be a prompt box asking you for your username and password. If you have previously created a username and password for your Linksys router, enter them into the box. If you have not yet created a username and password for your Linksys router, use one of the following default username and password options to login:
Username: blank (do not type anything)
Password: blank (do not type anything)
or
Username: admin
Password: admin
or
Username: admin
Password: password
or
Username: comcast
password: 1234
How to Access Linksys Router Settings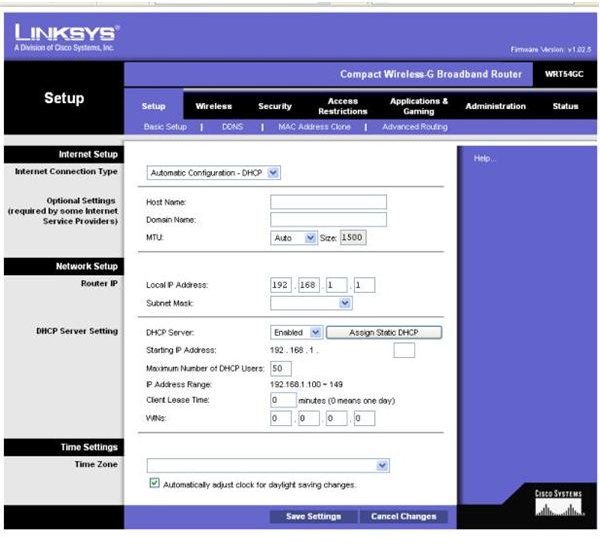 You should now be on your Linksys router settings page. Go ahead and browse through the tabs to see all of the config options. Two things that you need to be sure to do are change your username and password, and setup wireless security.
Start off by changing your username and password to something other than the defaults. Remember, before now, anyone who knows how to config a Linksys router could have easily logged into your settings page (if they were in range of your router). Click the Administration tab located toward the top of the window. On the next page, click the Router Password link, located along the left hand side of the window. Enter in a new username and password.
To setup wireless security, click the Wireless tab located within the top toolbar of the Linksys router settings page. On the next page, click the Wireless Security link from the left hand side menu. Enter a security password for your router in the Personal Key field.
Linksys Router Reset
If you have lost your original username and password, or are experiencing any other problems, you may need to do a Linksys router reset. A Linksys router reset will completely restore your router to factory settings, and allow you to start from scratch.
To do a reset, locate the router reset button on the router and hold it down for at least 30 seconds. Unplug the router and cable modem from AC power, and reconnect. You may need a pen or another pointed object to push the reset button on some Linksys router models.
More on Wireless Routers
Looking to purchase a wireless router? Check out our reviews.
New to wireless networking? Check out this beginners guide.
Want to setup wireless printing? Check out this article.