All in One PC Reviews: Picking the Best All in One PCs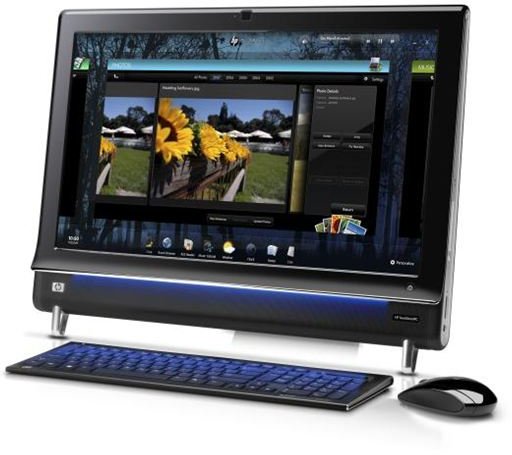 The Complete Package
As computer components become smaller and more efficient there has been a rise in the idea that PCs no longer need to consist of several different major components spread out on a desk creating clutter and chaos. It is now possible to combine both the monitor and the PC enclosure into a single neat package.
This leads to its own problems, however. Such PCs are harder to upgrade and integrate more components, so one weak link can hopelessly sink the entire product. The three All-In-One PCs listed here, however, are great choices if you're inthe market for this kind of PC.
HP Touchsmart 600
One of the most critically praised All In One computers, the HP Touchsmart 600 offers several features which really set it apart from the crowd. The centerpiece is a 23.5" multi-touch screen which is one of the most vibrant and most responsive examples of the technology currently available. What sets the HP Touchsmart 600 apart, however, is that HP has gone the extra miles towards making the multi-touch functionality actually useful. There are numerous applications available for the Touchsmart 600, including one which can display recipes in a touch-friendly format. The Touchsmart 600 also includes a voice activation feature for when your hands are dirty and you'd rather keep your paws off the easily smudged display.
On the downside, the Touchsmart 600 doesn't win any performance awards. The Core 2 Duo processors available provide performance on par with a mid-range laptop. The Touchsmart does have integrated Nvidia graphics, but the G200 model supplied is slow and there is no upgrade available. Still, the HP Touchsmart 600 offers the best multi-touch experience of any All In One on the market currently, and its price of around $1000 is reasonable as well.
Lenovo IdeaCentre A600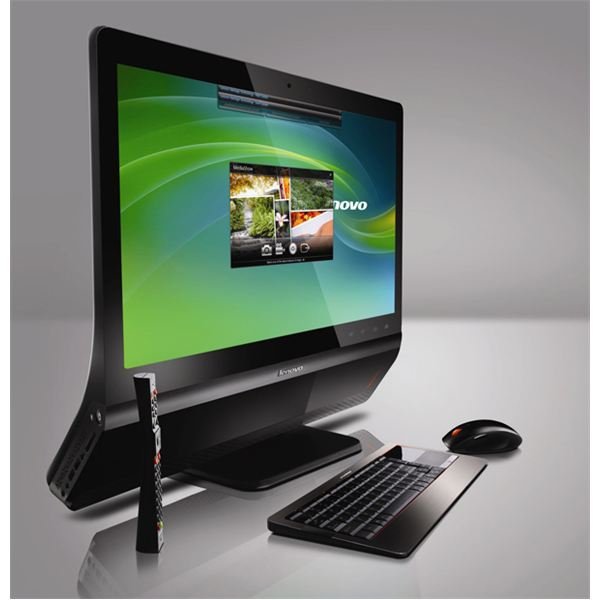 The IdeaCentre A600 is another example of how Lenovo is breaking away from the stodgy image of the Thinkpad line and presenting products with more flair. Packing a 21.5" screen with a resolution of 1920x1080, the IdeaCentre A600 looks stunning at first glance. That impression carries over to everyday use. The IdeaCenter A600's processor options are similar to the Touchsmart 600's, but the available Radeon graphics are better, and larger amounts of RAM can be had for lower prices. This results in better performance overall. The IdeaCentre A600 is at its best when used as a media center, where its high resolution and available TV tuner with remote combine to create a surprisingly robust package.
There is a notable lack of an HDMI port on the IdeaCentre A600, which seems very odd for a PC which seems oriented more towards media enjoyment than everyday use. Indeed, the same 1920x1080 screen which makes it so appealing for watching Netflix streaming video and other online content is a obstacle in day-to-day use, as small text is very fine and difficult to read. But with that said, the IdeaCentre A600 starts are a surprisingly low $699, making it a very affordable choice for a media-oriented All In One PC.
ASUS Eee Top ET2002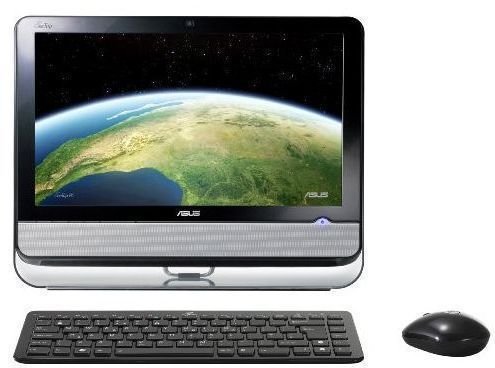 The ASUS Eee Top is yet another one of ASUS's many Atom based products. The Eee Top ET2002, however, packs a little extra punch in the form of a dual-core 1.6Ghz Atom processor. The additional core does worlds for the performance of the Eee Top ET2002, and it supports the Eee Top's Nvidia Ion graphics extremely well. As of the 10.1 update of Adobe Flash the Eee Top ET2002 can easily play any kind of online video, including Youtube HD and Hulu.
A 20" display with a resolution of 1600x900 is included with the Eee Top, and is more usable day-to-day then the 1920x1080 display on the IdeaCentre A600. The Eee Top ET2002 also includes integrated wireless and even an HDMI port. All of this will set you back only $600 dollars.
Make no mistake - the Atom processor still has its limits even in a dual-core variation, so don't expect the Eee Top to be a speed demon. It keeps up respectfully, however, and should be seriously considered by those who want an All In One computer to use for normal computing tasks day in and day out.