How Do I Hook Up My Laptop to My TV: Connecting a Laptop to a Television?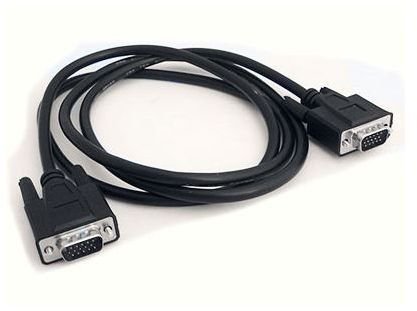 Use Your Laptop as a Portable DVD Player
There are many reasons why you might connect your laptop to your TV – you might have video content stored on your laptop that you wish to watch on your TV, or you might wish to conduct a presentation.
You might even wish to use your laptop as a portable DVD player and view the movie on your TV.
Depending on the model of your laptop and the connectors on your TV, it is possible to hook up a laptop to a television. Connecting two devices in this manner often requires specialist cabling, but if you're using a modern laptop and an up to date TV this should be achieved with the minimum of fuss.
Getting Started - Get the Right Cables
Before setting up the connection, you need to identify the cabling solution you're going to use. A modern laptop features both the usual VGA D-connector and S-Video. If your TV has either or both of these connectors then getting the right cables to achieve this should be simple. Either your laptop, your TV or even both might even have shipped with these cables.
It is also important to switch off your TV and shut down your laptop before proceeding. Neither device will detect the S-Video signal if it is connected while they're switched on; meanwhile it is always good practice to connect VGA cables with the devices switched off wherever possible. If you also want sound from your laptop to output to your TV (you might opt for headphones or desktop speakers) you should have a 1/8 to RCA cable or adapter to connect the speaker jack from your laptop to the red and white RCA inputs on your TV.
Setting Up the Connection on Your PC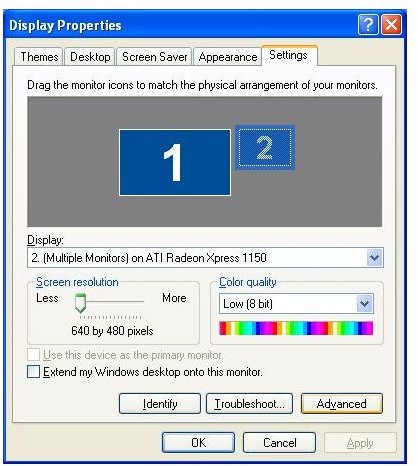 Whether using the VGA or the S-Video connectors, once the cables are secured, begin by switching on your TV and change the channel to the S-Video or Aux input – your TV should display on screen which channel is in use.
Next, boot up your laptop and login. On the Windows desktop, right-click in an empty area of the screen and select Properties from the context menu and go to the Settings tab. With your TV connected to your laptop you should see two monitor icons – the larger of these will be the main display on your laptop, and this will be denoted by a "1". Click on the second display labeled with a "2" and then the Advanced button, then select the Monitor tab.
Under Monitor Type, choose Generic Television, click on Apply and then OK to exit back to the desktop. Your TV should now display the same image as your laptop display – time to enjoy your DVD!