Gateway All in One PC: Gateway ZX6810 Review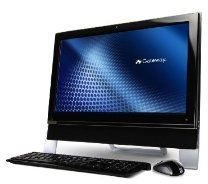 What's So Good About the Gateway ZX6810 All in One Touchscreen PC?
There are many reasons why we chose the Gateway ZX6810 as our best all in one PC available in the market today. How could you go wrong with a 23-inch integrated touch-enabled HD widescreen ultrabright display with 1920x1080 native resolution? Don't forget to add an ATI Radeon HD 4670 Graphics with Hybrid TV Tuner making it an excellent choice for watching HD movies.
The desktops chassis was also well designed sporting a classic manly look, definitely not your chick-oriented glossy and curbed edge display panel common found among desktop PCs today.
Performance wise, the Gateway ZX6810 can also deliver the goods with its great specs including a 2.33GHz Intel Core Quad chip complimented by a 1GB midrange ATI graphic card. Those features mean that you can practically enjoy seamless graphics when playing video games without worrying about system slow down during the game - especially thanks to its 64GB SSDs which ensures fast loading times.
For storage, the Gateway ZX6810 is loaded with 1TB traditional hard drive for storing all your multimedia files and other less speed-sensitive applications.
The Gateway ZX6810 also features 8GB of RAM, hence, you shouldn't have any problems using Windows 7 as its OS. And because of Windows 7, you can enable the PC's touchscreen feature. Bringing the Gateway ZX6810 into a league of its own when compared to other touchscreen all in one personal computers.
Price wise, this PC may be a bit on the pricey side (currently at $1,349.99) Then again, it's features, specs and power are certainly worthy of the price you have to pay for this machine.
Gateway ZX6810 - Full Specs
Processor: Intel Core i7 Q8200 / 2.33 GHz
RAM: 8GB DDR3 SDRAM
Hard Drive: 1 TB SATA, 64GB SSD
Monitor: 23-inch LCD display - TFT active matrix
Graphics: RADEON HD 4670
WLAN: 802.11b/g Wireless LAN
Others: webcam, Hybrid TV Tuner, Multi-in-1 Digital Media Card Reader, High-Definition Audio Support with 5.1-channel Audio Support, 6 - USB 2.0, Wireless Keyboard and Mouse, Windows 7 Home Premium, 8X DVD SuperMulti Double-Layer Drive
Other All-in-One Personal Computer PCs to Consider
Other all-in-one personal computer PCs that you may want to consider include - the HP Pavillion MS214, Asus Eee Top ET2002, and the MSI AIM AE1900.