The Top 5 Budget Sound Cards for a Home Computer

Surprisingly, the sound card is not a major concern of many home computer builders and buyers. The computing industry places so much emphasis on the CPU and video card that we demote the sound card to a necessary but unimportant commodity.
The truth is, a sound card must be matched with other components of a home computer so that these parts work in concert to provide a pleasing multimedia experience. Too often, the sound card is neglected so much so that many home computer buyers are unaware of the sound card they are buying. Computer builders often spend only minutes choosing a sound card whereas they spend hours studying CPU and graphics card information.
The Top 5 budget sound cards covered in this article were chosen based on three main criteria. First, price is certainly the most important consideration on a list that discusses budget sound cards. Second, features rank a close second to price. Finally, the sound cards on this list were chosen in light of the features to price ratio. Combined, the following audio devices made this Top 5 list of budget sound cards.
1 – On-board Sound
OK, this one is not a sound card per se. However, it doesn't get any more budget than using the sound adapter built into your motherboard. Not only can many on-board sound adapters deliver competent sound, you can revel in the fact that you are getting sound from your home computer essentially for free.
If you are building a computer and you intend to use on-board sound, be sure that the motherboard supports 8 channels of sound. This may be a minor point but you might as well get as much out of your "free" sound as you can.
If you are buying a home computer, check to see what the manufacturer is selling you. Are you getting a computer that is going to be using on-board sound? Many computer manufacturers know that sound is not a big consideration for many buyers and try to save a few bucks for themselves and offer on-board sound as the sound option on lower-end computers.
2 – Sabrent SBT 6-Channel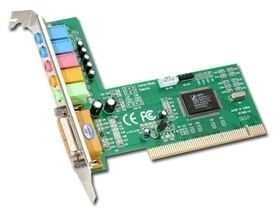 A step up from on-board sound, Sabrent's SBT 6-Channel sound card can deliver basic audio that is capable of 5.1 surround sound. Based around the XM18738 chipset, this PCI sound card will definitely provide a more satisfying experience than any on-board sound adapter.
At just US$9.99, this sound card is really just a small step up from on-board sound. Still, it does offer you the satisfaction of knowing that you will be getting true 3D surround sound. For home computers on a strict and very small budget, the Sabrent SBT 6-Channel sound card may be for you.
3 – Diamond Xtreme Sound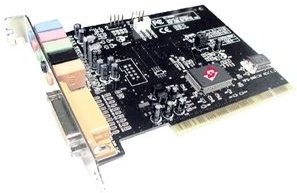 A good middle-of-the-road audio card within the mid-range is the Diamond Xtreme sound card. While not chock full of all the best features, its price makes it a good choice when you want better sound than you can get from on-board sound or a ultra-budget card.
The Diamond Xtreme audio card supports 5.1 channels and delivers crystal clear 16-bit sound. The software that comes with this card is what sets it apart from cheaper alternatives. The Diamond Xtreme has Karaoke support and offers a variety of special effects including concert hall and orchestral simulation.
As a blast from the past, this card also sports a game/midi port and is fully compatible with EAX 2.0 in case you play any games that take advantage of this technology. At just US$19.99, the Diamond Xtreme is a steal among budget sound cards.
4 – Turtle Beach Riviera 5.1 Digital
A big step up from the previous cards mentioned so far, the Turtle Beach Riviera 5.1 Digital is an excellent choice for DVD movies, gaming, and home theater applications. Unlike the budget audio cards above, this is the first card to support a 24-bit sampling rate.
The advantages of 24-bit rates include the ability to pass through Dolby Digital and DTS multi-channel DVD sound to external speakers and receivers. In addition, the Turtle Beach Riviera can convert 2-channel audio such as CDs and digital MP3 files to multi-channel sound for 4 or 6-speaker configurations. The result is better sound that simulates several channels beyond the standard 2 or 2.1 configurations.
At US$34.99 this is one sound card that won't break the bank and also leave more money left over for other computer components such as CPUs and video cards. Unlike other budget sound cards out there, the Turtle Beach Riviera is a complete package of hardware and software for one low price.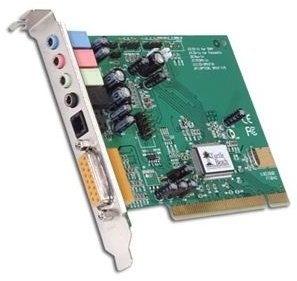 5 – Creative Labs Sound Blaster X-Fi Xtreme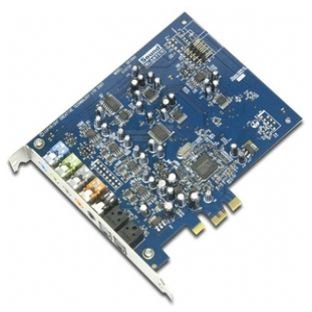 At the top of the budget list sits the king of computer audio. For more than 20 years, Creative Labs Sound Blasters have been the leader in computer sound cards and continue in that tradition by offering some of the best features in low-price alternatives to sound cards that break the ceiling of what most people are willing to pay for great sound.
The Sound Blaster X-Fi family of sound devices is a standard in the gaming market for audio cards that deliver the best possible sound to take full advantage of a good set of speakers. Admittedly, there is no point in getting a sound card such as this if you don't have the speakers to really make it shine.
Featuring a 24-bit sampling rate, support for 7.1 speaker configurations, and a host of custom software, it is hard to beat the X-Fi Xtreme as a budget audio card. The best part is this card's price tag. Were it not for the card's low price of US$39.99, the features on this card would justify its position on a mid-range list rather than a budget list.
Conclusion
Any of the budget sound cards mentioned in this article would be appropriate for a home computer that doesn't need to double as an expensive stereo system or home cinema machine. At the top end of this list, the cards have more features, better sound, and are more compatible with the newest array of hardware and software.
If you want to save a few bucks on your next computer or are looking to upgrade your current computer's sound, consider a budget card instead of more costly alternatives. If you want better sound and more features, read the next article in this series that surveys the Top 5 Mid-Range sound cards for home computers.
This post is part of the series: The Top 10 Budget and Mid-Range Sound Cards for Your Home Computer
Learn about the features and prices of the Top 10 Budget (Top 5) and Mid-Range (Top 5) audio cards available for home computers.