The Best Mid Range Video Card for Your Home PC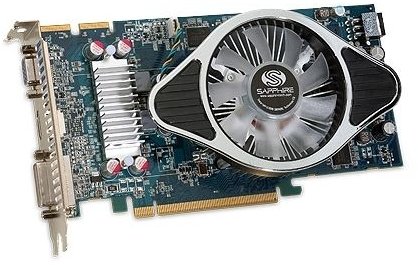 Of the three categories of video cards (budget, mid-range, high-end), the mid-range is by far the most popular category. It is here where most of the graphics cards sold in new computers lie. In other words, unless you buy a super high-end or super low-budget computer, the video card in your machine is probably a mid-range card.
The problem with video cards is that the top manufacturers are constantly releasing new ones making it almost impossible to keep up. Many people buying or building new computers today will probably go through at least one other card from the one originally installed.
Mid-range graphics cards are the meat and potatoes of the video card market. Choosing a new one can dramatically boost your computer's power and put you on par with newer computers without having to buy a whole new machine. Listed below are the Top 5 mid-range video cards and a description of each. If you need a boost in graphics power, you should consider these cards.
1 – Sapphire Radeon HD 4850 – 512MB GDDR3, PCI Express 2.0
At the bottom of the list is the Sapphire Radeon HD 4850. Soon to make its way to the top of the budget list, this video card still has some life left in it. With 512MB of memory it can't possible occupy a slot higher than where it is now. What lets it keep its place so long is its unbeatable price to performance ratio.
The street price for this Radeon 4850 is an unbelievable US$106.99, only US$2 more than the top budget video card discussed in the previous article of this series. Certainly, there is no point in buying that top budget card given the current price of the 4850.
What sets it apart is its higher graphics rating mainly due to its better graphics architecture. ATI specifically made this graphics processor to compete heavily in the high definition (HD) market and in that respect, this card delivers. PCI Express (PCIe) 2.0 support and CrossFire X ready means that this card can still scratch and claw its way into the middle range of graphics cards.
2 – BFG GeForce GTS 250 OC – 512MB GDDR3, PCI Express 2.0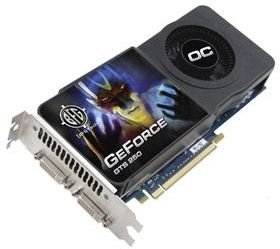 At quite a boost above the Radeon 4850, the BFG GeForce GTS 250 OC is head and shoulders above all of cards previously mentioned in this series. Supporting PCIe 2.0, Dual Link DVI, and SLI, this card is an excellent choice if you are running DirectX 10 or above in Windows Vista or Windows 7.
The OC in this card's name stands for "OverClocked." This means that the voltages on the card exceed what the manufacture of the graphics processor intended and recommends. The result is a card that is capable of far more than a non-overclocked card with the same graphics processor.
You may wonder if this is safe or if the manufacturer covers this card under warranty. Don't worry, it does. Overclocking a graphics card is one sure fire way to get more bang for your buck. What better way to do this than to let the manufacturer of the card do it for you where it has extensively tested the stability of the overclocked card in a lab.
The somewhat paltry 512MB of memory on this card is what prevents it from ranking higher on this list. Were the card to have 896MB or 1024MB of memory, it would easily rank higher. Still, with a street price of US$144.99, it is a clear contender for a slightly better mid-range graphics card than the other choices out there.
3 – XFX Radeon HD 4870 – 1024MB GDDR5, PCI Express 2.0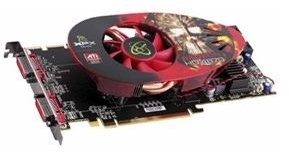 Another ATI-based graphics card makes this list in the form of XFX's Radeon HD 4870. You may have noticed a similarity in the name of this card and a card covered above. This is the Radeon 4850's big brother.
Now this is a nice mid-range card. With 1024MB of GDDR5 memory, this card can hold a tremendous amount of data to be processed by the more-than-capable Radeon 4870 graphics processor. With PCI Express 2.0, CrossFireX, Dual DVI, and HDTV capabilities, this card can just about do it all.
Surprisingly, this card's street price is relatively low. At just US$149.99, this video card is likely to stay in the market for a while. What sets this card apart is the GDDR5 memory. Most high-end cards still make use of GDDR3 memory while this one skipped a few generations and went right to GDDR5. Coupled with a powerful graphics capability, the memory of this card can really sing and deliver amazing graphics at an affordable price. It wasn't too long ago that this card was considered one of the better high-end graphics cards. With the XFX Radeon HD 4870, you get this morning's graphics card at the afternoon price.
4 – EVGA GeForce GTX 260 Core 216 SuperClocked – 896MB GDDR3, PCI Express 2.0
The EVGA GeForce GTX 260 recently occupied a space on the high-end list but slipped a few spots due to the recent release of several next-generation video cards. However, this card is still an excellent choice for mid to high-end gaming, especially for those capable of taking advantage of DirectX 10 or DirectX 11 in Windows Vista or Windows 7 respectively. This is one card that will last you a long time, likely beyond the life of your computer.
What sets this card apart from the others is its superclocked core 216 graphics processor. Coupled with its ample 896MB of GDDR3 memory, this card can handle just about anything you throw at it. Certainly, however, as a mid-range card it is not going to give you the performance of a high-end graphics card. But dollar for dollar, the GeForce GTX 260 Core 216 Overclocked is probably the best value on this list.
The price of this card is not for the squeamish who may be looking for a low price. At US$214.99, its price is quite a jump from previous cards on this list. It is the card's 896MB GDDR3 memory coupled with the advanced graphics processor that justifies this video card's price.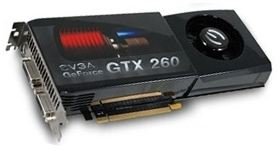 5 – Zotac GeForce GTX 275 – 896MB, PCI Express 2.0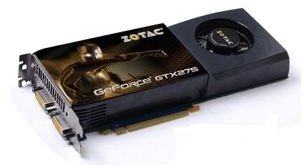 This is one card that some people might want to place on a high-end list but like the GeForce GTX 260 above, recent releases have pushed it down a peg or two. The Zotac GeForce GTX 275 is a video card that can literally do it all.
It supports 3-way SLI in case you find a need for putting three video cards into your computer at the same time. Granted few people actually do this, but it is an option in case you decide to go crazy and make your computer into an absolute graphics powerhouse.
Priced similarly to the GeForce GTX 260, the GeForce GTX 275 carries a street price of US$219.99. The reason for only a US$5 difference is that there really wasn't much of a jump in performance from nVidia's 260 to 275 graphics processor. This is what prevented, at the time of its release, the adoption of cards carrying the 275 processor. This is very similar to what we saw when nVidia released the 9800 GT processor to replace the aging 8800 GT.
Disappointingly, this card offers the same amount of memory as the GeForce GTX 260 above, which contributes to why this card is only a tiny step above the 260. This is also what made this card drop from a lower high-end card to a higher mid-range card. Still, the GeForce GTX 275 is an amazing value with a price that is worth what you get.
Conclusion
All of the video cards presented in this article can easily be considered to occupy the middle rung of the video card market ladder. As is the fate with all video cards, they will drop in position on the list until finally they disappear into obscurity. In choosing a mid-range card, you are likely looking to get more from the graphics of your home computer than can be achieved with a budget video card. The key to choosing a video card is to match the technology and the capabilities of a graphics card to your specific needs. Buy too little and you risk having to upgrade again in the near future. Buy too little and you risk overspending for features and power you will not or cannot use. Use this list as a guide but shop around. The prices listed here are likely to change quickly as changes in the market, economy, and products from the video card manufacturers change as well.
This post is part of the series: The Top 10 Budget (Top 5) and Mid-Range (Top 5) Video Cards
Learn about the features and prices of the top 10 budget (5) and mid-range (5) graphics cards for your home computer.