The Top 5 Mid-Range Sound Cards for Desktop PCs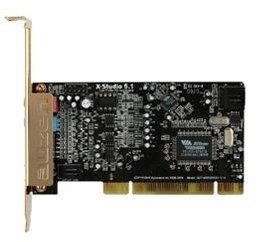 The budget sound cards mentioned in the previous article in this series represented a solid step up from the basic audio built in to mother boards. Taking another step up, the audio devices discussed on this list represent a higher level of audio for home computers. These cards not only offer more features, they have proven themselves to be ahead of the rest in terms of raw audio quality.
Of course, with these features and higher quality naturally comes a higher price tag. If you are in the market to upgrade your current home computer or are building your own, consider the return on investment you will get from any of the mid-range sound cards on this list. You may find that your multimedia experience and enjoyment of your computer increases simply by matching the right sound card to your needs. Don't but a sound card if you use tiny, $10, no-name brand speakers, for instance: you won't hear the difference. The money in that case is best spent on better speakers.
1 – Auzentech X-Studio 5.1
First on our list is the Auzentech X-Studio 5.1, a sound card that deserves a spot on a mid-range audio card list even if it is at the bottom. This card has several features that make it a step up from any of the budget cards in the previous article.
Surprisingly, the features that make it a better choice having little to do with audio itself. The Auzentech X-Studio supports 6 channels (5.1 configurations) and treats listeners to 24-bit sound including DirectSound 3D, A3D, and EAX 1.0/2.0 technologies.
However, the card's physical features set it apart from say, the Creative Labs Sound Blaster X-Fi Xtreme covered in the previous article. This card features support for High Definition (HD) front panel audio connectors and includes brackets for both low-profile and standard-profile configurations.
At US$49.99, the Auzentech X-Studio 5.1 is a perfect choice for gaming and DVD movies but it is especially suited to small home theater systems and those times when you need your computer to double as a miniature home cinema. With the right speakers, this sound card can really bring your home computer's audio to life.
2 – Creative Labs Sound Blaster X-Fi Titanium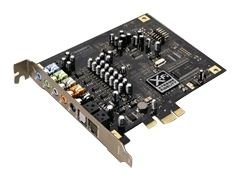 Creative Labs makes its first appearance near the bottom of this list of mid-range sound cards with the Sound Blaster X-Fi Titanium. There is no doubt that the X-Fi family of audio devices has positioned itself as the standard by which we judge so many other audio devices.
What sets this card apart from lesser audio devices is its near-flawless ability to convert 24-bit sound from digital to analog and from analog to digital. An advanced audio processor allows you to enjoy multiple sampling rates and with so many input and output options, it would be difficult to find a computer that was not fully compatible with this sound card. This card also supports EAX 5.0 (and, of course, legacy versions) for those applications that take advantage of this audio technology.
At US$89.99 this is the first sound card discussed so far that has inched its way close to the US$100 mark. Still, its features make it certain that this card will outlast your computer so that you may use it in your next one without further investment in audio cards.
3 – Auzentech AZT-XPCINE X-Plosion Cinema 7.1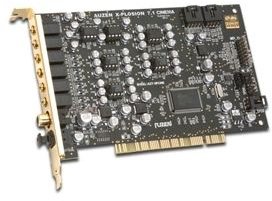 Auzentech makes its second appearance on this list with the AZT-XPCINE X-Plosion sound card. Its cutesy name aside, this card means serious audio for a home computer.
Its most outstanding feature is its ability to convert any audio signal into a Dolby Digital bit stream for playback in any Dolby-enabled device such as speakers, a receiver, or even through a home theater system. Granted, this feature makes it most suitable for use in a home cinema, but there are enough features here to make it suitable for any application where the listener would benefit from high fidelity sound.
At US$119.99 we have broken the US$100 mark by quite a large margin. Still, the benefits of the Auzentech AZT-XPCINE X-Plosion are well worth the price assuming you have the surrounding equipment to take advantage of them.
4 – Creative Labs Sound Blaster X-Fi Titanium Fatal1ty Pro
Making its second appearance on this list, Creative Labs offers the Sound Blaster X-Fi Titanium Fatal1ty Pro. Similar in features to the Titanium sound card above, this audio card does feature some nice attributes that warrant its inclusion on a list of mid-range sound cards.
Again, the X-Fi sound paradigm introduced by Creative Labs is by far the one of the best options from which any home computer's sound will benefit. The Titanium Fatal1ty Pro sports accurate 3D positional audio meaning that sounds appear to come from the direction intended by the audio recording. This is especially important for gamers or when your home computer doubles as a home cinema.
X-RAM technology, specific to this line of sound cards, gives gamers an audio advantage because sounds are more likely to be heard when they are supposed to be heard. Of course this card also support many of the other features found on X-Fi cards such as Dolby surround sound and support for EAX 5.0.
At US$139.99 we are well over the US$100 mark making the X-Fi Titanium Fatal1ty Pro one of the more expensive mid-range sound cards out there. Still, its list of features may be exactly what you need to get the most from your games, home cinema, or music.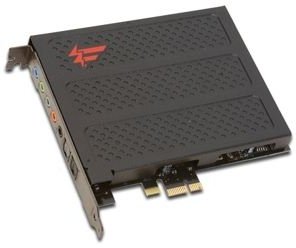 5 – ASUS Xonar D2X 7.1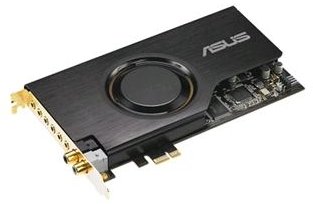 Making its first appearance on this list, ASUS offers the Xonar D2X 7.1 sound card for home computers. What sets this card apart from the others is its amazing compatibility with Windows Vista and Windows 7.
Microsoft's two newest operating systems completely change the home computer audio paradigm. This new paradigm has the unfortunate side effect of disallowing and interrupting some surround sound configurations and making some configurations downright incompatible with the new operating systems.
The ASUS Xonar D2X 7.1 put an end to these incompatibilities with a guarantee that this sound card is 100% compatible with Microsoft's audio paradigm shift. Truthfully, the features and price of this card could easily place it at the bottom of a high-end list. But, recent price drops and the introduction of next-generation sound cards by several manufacturers have pushed this card down out of the high-end range. Still, at US$189.99 this is not an audio card to take lightly. If you want maximum compatibility and the best audio possible from a mid-range sound card, the ASUS Xonar D2X 7.1 is for you.
Conclusion
Although all of the sound cards on this list represent mid-range home computer audio solutions, they do cover quite an expansive range of features and price. Ranging from US$49.99 at the low end to US$189.99 at the high end, there is more than enough wiggle room for choosing the right audio card for your home computer.
When searching for a mid-range sound card remember that you need to match your needs to the features and price of the card. Also, be prepared to consider the features/price ratio to be certain you aren't buying too much or too little. Buy too much and you have wasted money for features you will not or cannot use. Buy too little and you are likely to outgrow your sound card in the near future.
This post is part of the series: The Top 10 Budget and Mid-Range Sound Cards for Your Home Computer
Learn about the features and prices of the Top 10 Budget (Top 5) and Mid-Range (Top 5) audio cards available for home computers.