Best External Hard Drive Enclosures: Enclosures for 3.5" and 2.5" ATA Drives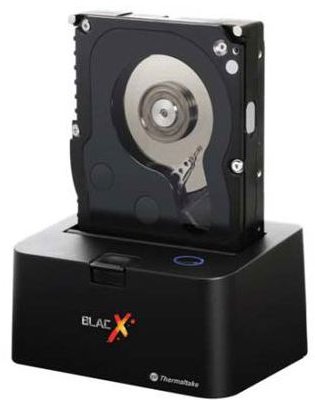 Externally Useful
While there is a plethora of external hard drives available, there are limitations with many external drives. The price is often a fair bit higher than similar internal drives, which means you'll get less bang for your buck. The connection methods of external drives are also usually lacking, often using USB 2.0 and nothing more. Finally, an external drive is an all-in-one package which means it is often larger, bulkier, and heavier than an internal drive.
Using an internal drive as an external drive can, therefor, make a lot of sense, particularly when storing lots of data or switching between different drives. The three external drives listed here are good bets for those looking for an external drive enclosure.
Thermaltake BlacX External SATA Enclosure
It is easy to at first glance mistake the Thermaltake BlacX for a futuristic toaster. Its square frame and upward-facing insertion slots allow for drives to be easily slotted in and made ready for use. It is as plug-and-play as one can expect from an external drive enclosure. Of course, this does come with a disadvantage - the Thermaltake BlacX is an external enclosure in name only. The drive does not fully enclose or protect either 3.5" or 2.5" drives, which means it is better use as a plug-and-play docking station than a full-time enclosure.
The features of the Thermaltake BlacX are fairly robust. It offers both USB and eSATA connections and respectable transfer speeds while using USB. Some users have noted that the eSATA transfer speeds do not seem to reach the peak they should, and others report that eSATA transfers are occasionally interrupted, so it is not best used via that means of connection. Since the hard drive inserted is exposed, cooling isn't a major issue, but noise can be depending on the hard drive inserted. Overall, the Thermaltake BlacX works well as a plug-and-play internal drive connector, particularly considering its sub-$40 dollar asking price.
Rosewill RX-358 3.5" SATA Enclosure
Those looking for a full time enclosure that can handle even high-performance drivers should like the Rosewill RX-358. It is not a small piece of kit, measuring about two inches high, 5 inches wide, and 7 inches long, but it is made of rugged aluminum which helps protect any drive inside from physical bumps or scrapes. The Rosewill RX-358 only supports 3.5" drives, so those looking for a place to stick a 2.5" laptop hard drive or SSD are out of luck.
The Rosewell RX-358 features both USB and eSATA connections, and transfer rates from both seem to be above average. Hard drive support is up to 2TB in a single drive, which means that it will work with any consumer drive on the market today. Of particular interest is the 80mm cooling fan which helps the Rosewill RX-358 keep high-performance drivers operating smoothly. The 80mm fan is not quiet, but it can be disabled when using lower-performance drives, which is a good compromise.
The RX-358 is only $40 dollars, and is often offered for sale at Newegg as Rosewill is Newegg's house brand. While it would be nice if the cooling was quieter, this enclosure is an overall good buy for those needing a full-time hard drive enclosure.
Vantec NST-360SU 3.5" SATA Enclosure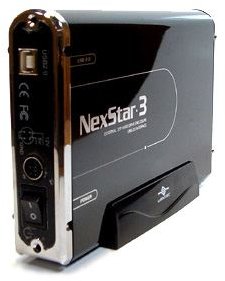 The Vantec, unlike the other two enclosures, keeps extremely close guard of the drives inside it. There are no large holes of any sort in the Vantec's aluminum and plastic shell, which means that it can be used in high-risk areas like an office desk without too much concern. It is undoubtedly the least interesting to look at, but it is the most functional as a full-time enclosure - at least for most hard drives. The Vantec does not have a fan, and some users have expressed displeasure with heat generation when the Vantec is used with high-performance 7200 and 10000RPM drives.
The Vantec offers both eSATA and USB connections and full hot-swap support. Drives kept inside are securely held by the internal mounting system. On the downside, the Vantec NST-360SU only features support for drives of up to 750MB in size. This is an obvious disadvantage to the Rosewill RX-358.
However, the Vantec NST-360U is a little cheaper at a price of around $35 dollars. It is also more protective of drives placed within, making it a much better choice in certain environments.