Gaming Video Card Review - EVGA Nvidia GeForce GTS 250 for Windows Desktop PC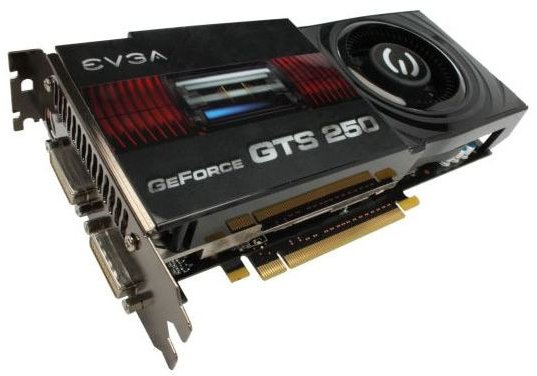 Video Card Upgrade
I recently upgraded the video card in my PC from an Nvidia GeForce 8600 GT to a GeForce GTS 250 from EVGA. The performance increase was dramatic, and I am blown away by how much of an improvement this card makes with my games. Just be warned that the card itself is very large and may not fit inside some computers. I barely made it fit in my HP desktop.
Performance (5 out of 5)
My computer is a couple of years old, but still holding strong because it wasn't bottom of the line when I bought it. I have an HP brand desktop with an AMD x2 5000+ processor, 3 gigs of RAM, and two hard drives totaling 850 gigabytes of space. I used to have an 8400 GS video card, but it wasn't so great with a lot of first person shooters, so I upgraded to the 8600 GT and did very well until trying to play some games released this past summer. Now that I have this GTS 250, I should be able to squeeze at least another year's worth of PC gaming out of my computer.
The performance of this card has been great, and it made a very noticeable difference in my games. For example, I was able to nearly max out all the settings in Crysis and it still run smoothly, whereas before with my 8600 GT I had to keep everything turned down just to make it work. Battlestations Pacific went from jerky to smooth, and now it is even more playable than before. Somewhat older games like Call of Duty 4: Modern Warfare, didn't seem to run much better, but they were already as good as they could get. Left 4 Dead showed some improvement when I turned up the anti-aliasing settings. Ghostbusters: The Video Game also looked much better with the new card.
EVGA Brand (5 out of 5)
The EVGA brand seems to be pretty reliable when it comes to all the various manufacturers of video cards and other PC components. I bought the card from NewEgg.com for $124.99, and part of the reason why I chose it was that out of almost 150 customer ratings, the card had an overall rating of 5 out of 5. For the price and features, it was the best deal for the amount of money I wanted to spend. I have previously owned two other video cards from EVGA and had no problems with them.
Installation (4 out of 5)
Installation of this card took a little work. On my HP desktop, the SATA drive connectors on the motherboard are located directly in line with the PCI Express x16 slot where this video card connects. Because this card is so gargantuan, part of the card presses down on the SATA connectors. I debated whether or not to take a pocketknife and trim down the plastic, but I was able to get it to work. I am applying pressure to the connectors and probably not doing them any good, but it still works. Before you buy this card, take a good long look at the inside of your PC case and make sure that the card will fit. My HP brand PC is a pretty average size desktop and this card just barely fits.
After you've installed everything, be sure to visit Nvidia.com to download the latest drivers, as they are updated quite often.
Cooling and Noise (4 out of 5)
This video card can be a little on the noisy side when playing a very graphic intensive games. When it needs to work, I can hear the fans spin up. I also noticed that it took a while after I quit playing the game before the fans spun back down. I suppose that once it gets hot, it stays that way. The size of my PC probably has something to do with it. EVGA included software to manually control the speed of the fans, but I would not recommend playing with it unless you know what you're doing. You might cause your card to overheat.
Overall (5 out of 5)
The bottom line here is that with a two year old desktop PC and this GeForce GTS 250 high-end video card from EVGA, I can run most any game off the shelf. It currently retails at NewEgg.com for $124.99 after a $10 mail-in rebate.
Hardware Specifications

EVGA 512-P3-1150-TR
PCI Express 2.0 x16
NVIDIA GeForce GTS 250
Core Clock 756MHz
Stream Processors 128
Memory Clock 2200MHz
Memory Size 512MB GDDR3
Memory Interface 256-bit
DirectX DirectX 10
OpenGL OpenGL 2.1
DVI Ports 2
TV-Out HDTV Out
RAMDAC 400 MHz
Max Resolution 2560 x 1600
SLI Support
Cooler With Fan
Dual-Link DVI Support
HDCP Ready
Manufacturer Warranty: Parts/Labor 2 years limited